Jonathan Tiernan-Locke: Endura defend team stance on doping after irregularities emerge
Endura have defended their stance on doping and Jonathan Tiernan-Locke's integrity.
Last Updated: 01/10/13 1:51pm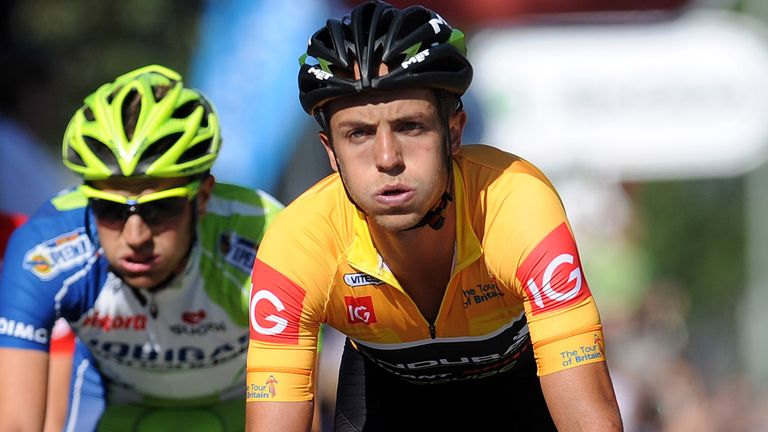 It emerged on Sunday that Tiernan-Locke has been asked by the International Cycling Union (UCI) to explain discrepancies in his blood values registered in September 2012.
The 28-year-old, who is now with Team Sky, was riding for Endura Racing at the time and enjoying the best season of career following wins in the Tour Mediterraneen, Tour du Haut Var and Tour of Britain.
Should he be unable to offer an acceptable explanation for the irregularities to the UCI, he could face punishment and a possible suspension.
Endura released a statement on Monday defending both the team's stance on drugs and Tiernan-Locke's integrity.
'Explicit and vociferous'
It read: "At this early stage, without detailed information, it would be inappropriate to speculate on the reasons for inconsistencies in JTL's biological passport data, although it is known that there are many possible legitimate causes, including fatigue and ill health, both of which we understand JTL has suffered from in the last year.
"A process, that ought to have remained confidential, is under way and we obviously hope that JTL is able to provide information that is acceptable to the UCI for their enquiry in order for him to clear his name.
"As regards Endura Racing's team culture relating to PEDs [performance-enhancing drugs], the team owners and management have always been explicit and vociferous in condemnation of their use and although limited in its resources as a UCI Continental-licensed team, Endura Racing previously made attempts to arrange for additional spontaneous testing for its riders through UKAD [UK Anti-Doping].
"Unfortunately this request was rejected. However, Endura Racing's willingness to fund additional testing to expose its riders to a more prolific test regime than the mandatory requirements is clear evidence of Endura's position on the matter."
Doubts over Tiernan-Locke's performances emerged in France last year in the wake of his Tour Mediterraneen and Tour du Haut Var victories.
Pro-active against doping
Keen to prove his credibility, Endura revealed in the statement that they subsequently asked the UCI to give Tiernan-Locke a biological passport, but were turned down.
They also explained how Team Sky and Garmin-Sharp - WorldTour teams who were courting Tiernan-Locke's signature - both tested the rider during 2012.
The statement added: "When it became clear he had WorldTour potential, [he] was made available to Team Garmin-Sharp in April for physiological tests. No adverse results were reported back.
"He then accompanied Team Sky on their Tenerife training camp in May. Team Sky had full access to JTL from the point it was agreed for him to train with them at this camp.
"According to JTL, he undertook physiological tests for Team Sky directly after the World Championships in 2012 and although Endura never received any data from these tests, neither was anything raised by Team Sky as unusual or concerning."