Adam and Simon Yates to join Orica-GreenEDGE on two-year neo-pro contracts
Orica-GreenEDGE confirm the signing of up-and-coming British duo Adam and Simon Yates.
Last Updated: 04/10/13 11:50am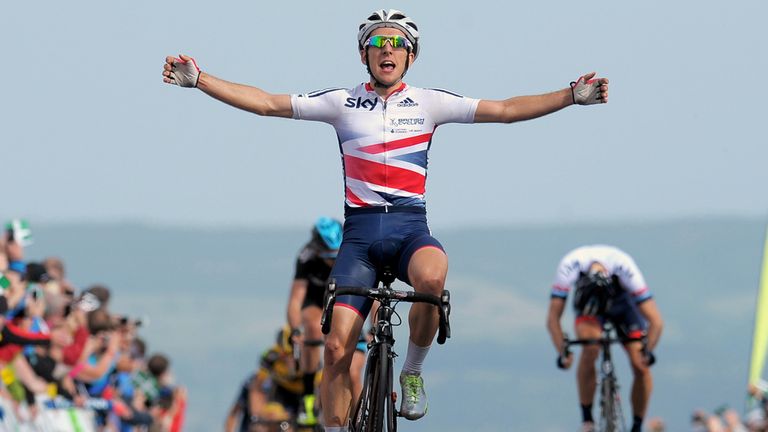 The 21-year-old identical twins had been tipped to join Team Sky for the 2014 campaign, but Orica-GreenEDGE broke the news on Thursday that they had snapped the pair up on two-year neo-pro contracts.
The brothers, who hail from Bury, have both enjoyed stellar 2013 campaigns, with Adam finishing second overall at the Tour de l'Avenir - a race commonly referred to as the Tour de France for under-23s - and Simon out-sprinted his sibling to win a challenging fifth stage into Morzine. The latter rider also impressed during last month's Tour of Britain, where he triumphed on stage four against senior opposition.
"This was our first choice," said Adam, who admitted he had courted offers from several potential suitors. "When we decided to turn pro next year, we knew GreenEDGE was one of the best teams for us both. It's a good opportunity in terms of development. From everything we've heard and seen, we know the team looks after their young guys very well."
"This seemed like the right place for us, Simon confirmed. "Knowing the way the team has developed the other young Aussies was an important part of our decision. Look at Cam Meyer. He came from the track just like us, and he's already achieved quite a lot on the road. We'd love to develop the way he has."
Humble beginnings
The Yates's began learning their trade almost a decade ago when their father took them on regular trips to the nearby Manchester Velodrome. The boys quickly fell in love with the sport but it wasn't until this year that they began to focus their attentions on lives as professionals.
"We both started on the track and very slowly worked our way up the ladder," said Simon, who won the points race at the World Championships in Minsk, last February. "We didn't have an exceptional start. There was absolutely nothing remarkable about our early results. It's not like anyone who saw me race at the beginning would say I would go on to win a world title."
"We've both switched our focus to the road much more this year," Adam explained. "We've put in a lot of work. The results have just taken off from there, really."
Orica-GreenEDGE's General Manager Shayne Bannan was delighted to have sealed their services and believes the Australian outfit offer the perfect place for them to adjust to live among the WorldTour ranks.
"Adam and Simon had an outstanding Tour de l'Avenir," he said. "Simon won two mountains stages, and Adam finished second overall. It's indication of their climbing abilities, and this is an area we really want to develop within the team. It's clear they're both big talents. We're very excited to be a part of their development."
Learn, support and grow
It is that commitment to development that proved most attractive to Simon and Adam. Both were modest when outlining their ambitions for their neo-pro year, insisting they are eager to learn, support and grow without specific objectives.
"I'm not really ready to name my own aspirations," said Simon. "I see these first years as being all about development. I want to help the team however I can and absorb as much as I can in the process. There will be time later to hone in on my own goals."
"I'm really focused on development," said Adam. "That's the key thing for me next year. In the second year, I hope there might be an opportunity to ride a Grand Tour. I can't name anything much more specific than that until I see how things go the first year."
"I expect them to develop fairly quickly," added Bannan. "They've spent a number of years racing in Europe already, so their progression is rather advanced. I'm confident that we'll see some really good things from them in the future."
Having raced on separate trade teams on the road during the past two years, with Adam representing the French-based CC Etupes while Simon opted to stay with the Great Britain academy, both are excited to reunite in 2014.
"We've been apart now for a couple years," said Adam. "It's never been a struggle, but it's always better for us when we're together. We each got a few offers from other teams that were just for one of us. The best options were the ones from teams that we're keen on us both."
"It was pretty important for us to find a team together," reiterated Simon, when posed the same question. "Obviously, we can be apart, but it's a lot easier in a lot of regards when we're together."