Richie Porte keen on Giro d'Italia leadership as well as support role at Tour de France in 2014
Richie Porte wants to lead Team Sky at the Giro d'Italia and help Chris Froome at the Tour de France.
Last Updated: 25/10/13 1:16pm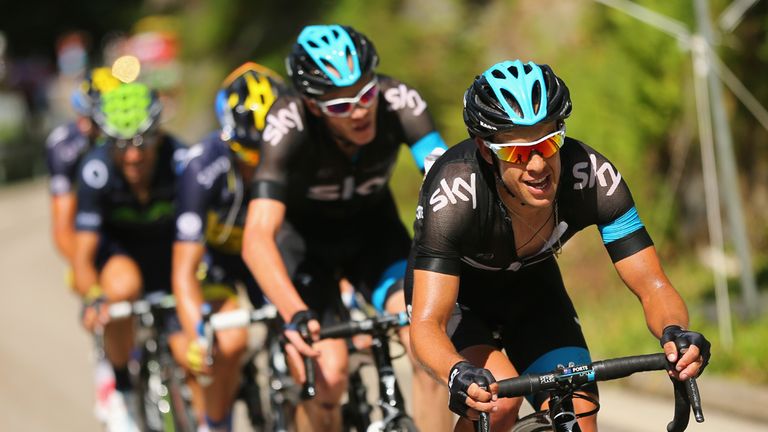 The 28-year-old Australian is likely to be Team Sky's No 1 hope at the Giro d'Italia in May, but that will not be his only big target after a 2013 season that proved to be immensely successful for him and the team.
Porte won the prestigious Paris-Nice title, the biggest stage race victory of his career, finished second to close friend Froome in the Criterium International and helped him to victory in the Tour de France as the team took the season's highlight for the second successive year.
But he has already turned his thoughts to next year, when as well as providing his top-class talents as a domestique, he is expected to get his first opportunity to bid for Grand Tour glory.
"Obviously, the big goal for me next year is the Giro," Porte said ahead of the end-of-season Criterium de Saitama in Japan. "I haven't really sat down and talked to the team about it but I think it is the next step for me.
Grand Tour goals
"They want to develop me into a Grand Tour racer and that is hopefully going to be my first big opportunity to lead a team.
"I would like to start the Tour Down Under, then Paris-Nice, I would like to go back and defend that, too.
"But come July I want to be there in England for the start [of the Tour de France]. I do think I can do a good Giro and come out and be good in the mountains and help Chris [Froome] there."
The 2014 Tour will include a stage containing 15.4km of cobbles and while Froome has little experience on that surface, Porte is confident his team leader will still be stronger than rivals such as Alberto Contador, Vincenzo Nibali and Nairo Quintana.
"To be honest, they are playing catch-up," Porte added. "They can't out-climb him, they can't out-time-trial him.
Tour ambition
"Maybe there are cobbles, but Chris is also a much better bike-handler than people give him credit for and he is also going to have a much stronger team than he did this year."
Porte could have been a Tour podium contender himself in 2013 but for stage nine, when he had a bad day and lost almost 18 minutes, and he is taking his overall performance as a positive.
"I showed that I [can compete with the best]," Porte added. "I dropped some of these guys when I was doing the job [of domestique].
"It is a shame I lost all that time when I did but when you are in a team, you know your role, that is what you have to do, but I took a bit of confidence out of the Tour this year as well."