Chris Froome backs new UCI president Brian Cookson to rid cycling of doping culture
Chris Froome has backed UCI president Brian Cookson to rid the cycling of its doping culture.
Last Updated: 25/10/13 1:44pm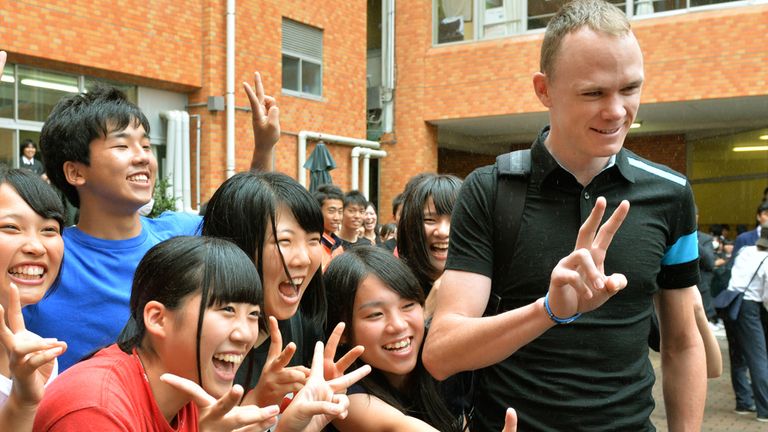 Froome had to field a number of questions and suspicions related to his performances during his masterful victory at the Tour in July as some equated his dominant displays in the mountains to the use of illegal substances.
And while Froome says he can understand it to a certain degree, he hopes the election of Cookson last month to replace tainted predecessor Pat McQuaid at the UCI helm will help the sport recover from its tarnished image.
"It really is important for us and hopefully that's something a new president in the UCI can help us to achieve, which is move past that old image and the baggage from the past and show people that the sport really has turned around since those darkest days," the 28-year-old Team Sky leader said in Japan ahead of the Criterium de Saitama.
"It is frustrating, but I have got perspective on it and can see it from the fans' point of view and the media's point of view. I too used to follow those races and support those riders, so I can understand where the anger and frustrations are coming from, and it is up to us now to show that we have moved on."
Team leadership
For Froome, though, it wasn't just doping questions that dogged him this year, as he also had to spend months answering questions about his relationship with his predecessor as Tour winner, Sir Bradley Wiggins.
The first six months of this year were dominated by speculation over who would be Team Sky's leader at the Tour, until Wiggins eventually pulled out through illness and injury and failed to defend his title.
But now Froome believes the press have got bored with that story and moved on to other things, particularly given Wiggins said earlier this year that he may never ride the Tour again and will return to the track in 2015.
"It is something [their rivalry] the media keep trying to build up to create more of a story, but it is non-existent," Froome added.
"The team leader is always changing, the team has to go with who is currently the best, so I can't say I'm the team leader.
Olympic interest
"If I'm not going well in January, they will support someone else. Maybe Richie Porte will be the team leader, so you can't say this guy is team leader. It is not how cycling works."
Froome's season is set to come to an end with Saturday's criterium, which will see some of the stars of the Tour de France come up against Japan's best riders in a series of races around a street circuit in the Japanese city north of Tokyo.
But the Kenyan-born Briton hasn't ruled out making another trip to Japan for the 2020 Olympics.
"That is a long way in advance, but seven years, I'm currently 28, so there's no reason why I shouldn't be competing at a good level at the age of 35," he said.
"For me a race like the Olympics would always be a bit more of a gamble. It is a one off event, a one-off hit out. I don't know if I will ever be able to medal again at an Olympic Games, but certainly I would like to give it a try."