Track Cycling World Cup: Great Britain team pursuit squads qualify for gold-medal finals
Great Britain's women's team pursuit squad broke the world record at the Track Cycling World Cup.
By Matt Westby in Manchester
Last Updated: 02/11/13 12:53pm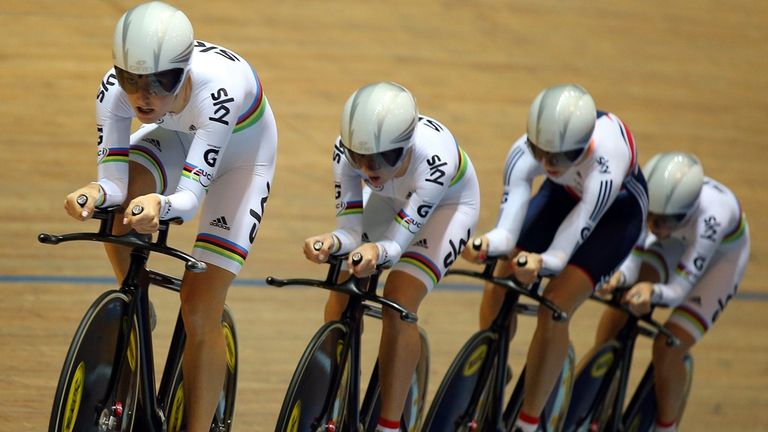 Laura Trott, Dani King, Jo Rowsell and Elinor Barker stopped the clock over the 4km distance in a blistering 4min 23.910sec and will look to lower that mark even further when they face Canada at just after 8.20pm.
The time was more than four seconds faster than the Canadians' effort and improved on the previous world record, which Britain set when winning gold at the European Championships in the Netherlands a fortnight ago, by more than 2.5 seconds.
It is the first time at a global event that women are racing as quartets over a 4km distance following a change from three riders over 3km for the 2013/14 season. Australia will face Russia for the bronze medal.
Learning curve
Great Britain women's endurance coach Chris Newton said: "We maybe came out a little bit too quick for what we wanted, but it is all about learning about the capacity of the girls.
"We will up the schedule a little bit more [in the final]. Canada were [almost] five seconds slower in the qualifiers, so we are looking to exceed the team and maybe go for the catch."
Great Britain's men's team pursuit squad will also race for gold tonight after being the only team to dip under four minutes in qualifying.
Ed Clancy, Steven Burke, Andy Tennant and Owain Doull clocked a time of 3:59.672 over 4km and will face Australia in the final, who were 1.8 seconds slower. Denmark, who were third fastest, will face the Netherlands for bronze.
"It was a very good team performance - very pleasing, " Paul Manning, the Great Britain men's endurance coach, said. "It is not a done deal at all. We have got to focus on ourselves and deliver a good ride again later."
James and Williamson eye gold
Britain will go for a third gold medal, in the women's team sprint, after Becky James and Victoria Williamson qualified second fastest in 33.483 seconds, almost half a second slower than the German pairing of Kristina Vogel and Miriam Welte, who are the reigning world champions.
The final will take place at around 7.20pm, just after Russia face trade team Max Success for the bronze medal.
In the men's team sprint, the British trio of Jason Kenny, Philip Hindes and Kian Emadi will race New Zealand for the bronze medal after qualifying third fastest in a time of 43.693 seconds.
Germany were the fastest trio in 43.351 seconds and will face Russia shortly after 9pm for gold.
Elsewhere, Britain's Job Dibben finished fifth in the first event of the men's omnium, the flying lap, while King qualified for the final of the women's scratch race.