Hans Verbruggen denies Lance Armstrong claims of UCI cover-up
Hein Verbruggen has denied Lance Armstrong's suggestion that he helped to hush up a positive drug test.
Last Updated: 19/11/13 11:03am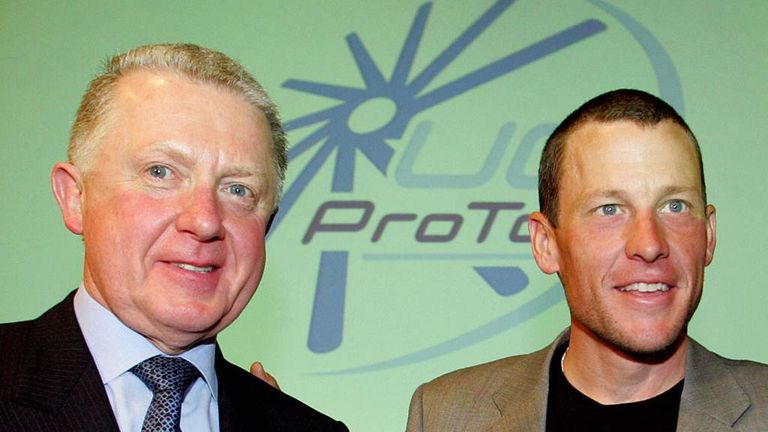 Armstrong claimed in the Daily Mail that the former president of the sport's governing body, the UCI, was involved in a cover-up of a positive test for a corticosteroid found in a cream for saddle sores in 1999. Verbruggen denies any wrongdoing.
That was the year Armstrong won the first of seven Tour de France titles. The Texan has since admitted backdating a prescription to give himself an exemption.
Dutchman Verbruggen could be called before the UCI's independent committee, which is to be set up to investigate historical doping allegations and claims of complicity.
Responding to the allegations in a text message to NOS television network in Holland, Verbruggen wrote: "Since when do people believe Lance Armstrong?"
And separately, in an email to the Daily Telegraph, he wrote: "An IC (independent commission) has never been a problem for me."
Of the incident in 1999, he added: "(It was) handled by the French ministry and the ministry had decided that (Armstrong's) explanation of the presence of cortisone (ointment) was acceptable for them. It was not a UCI decision; there was nothing to cover up."
Verbruggen left his position as UCI president in 2005 but is still an International Olympic Committee member.
Outcome
The IOC said it would await the outcome of the UCI's investigation before taking any action of its own.
An IOC statement said: "It is hard to give any credibility to the claims of a cyclist who appears to have misled the world for decades. That said, the UCI is currently working on plans to investigate the matter more thoroughly and we await proper considered outcomes from this investigation rather than (act) on rumour and accusation."
UCI president Brian Cookson, who succeeded Verbruggen's replacement Pat McQuaid in September, has made an independent inquiry, in conjunction with the World Anti-Doping Agency, a priority and is especially keen to investigate allegations of corruption.
Armstrong, who was banned for life and stripped of his seven Tour titles last year, would be welcomed to give evidence, so too would Verbruggen.
A statement from the UCI read: "The UCI's independent commission of inquiry is in the process of being set up and we are in advanced discussions with stakeholders on its terms of reference to allow full investigation of any allegations relating to doping and wrongdoing at the UCI. Further announcements will be made in due course.
"The commission will invite individuals to provide evidence and we would urge all those involved to come forward and help the commission in its work in the best interests of the sport of cycling.
"This investigation is essential to the well-being of cycling in fully understanding the doping culture of the past, the role of the UCI at that time and helping us all to move forward to a clean and healthy future."