Sir Bradley Wiggins 'humbled' to receive knighthood and targets 2014 Tour de France
Sir Bradley Wiggins said being knighted by the Queen was a "nerve-wracking" and "humbling" experience.
Last Updated: 10/12/13 4:08pm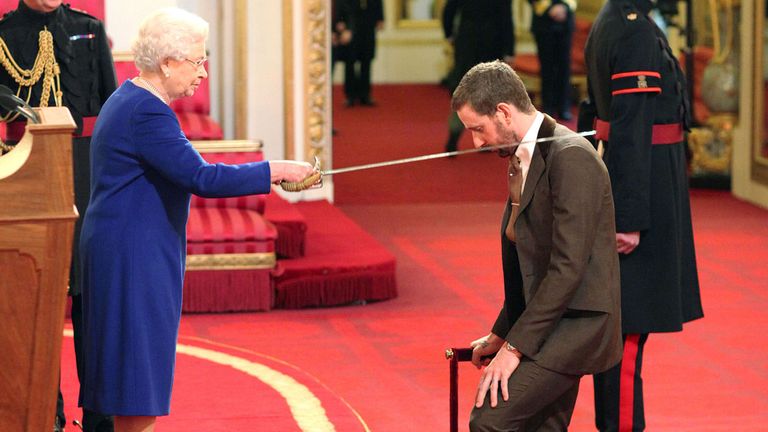 Wiggins was honoured at a Buckingham Palace ceremony on Tuesday after a sensational 2012 during which he became the first ever British winner of the Tour de France and won the fourth Olympic gold medal of his career.
Speaking after he was knighted, Wiggins said: "It was quite a nerve-wracking thing for me actually, it's not a comfortable environment for me, being in there.
"But it was an incredibly humbling experience, to meet some of the people I've met today and to see what they have received awards for.
"You feel a little bit inferior at times. There are people in there getting things for services in Afghanistan and, as a sportsman, you do it for the success, and you never expect to get things like this.
"It's an amazing experience, to have the family here as well."
Nerves take hold of Wiggins
Wiggins exchanged words with Her Majesty but was so disconcerted he could not recall what was discussed.
"I can't remember what she said or what I said!" he explained. "I was probably more nervous going up there and doing something like that, than being in an Olympic final. I can't remember what happened.
"The success that British sport had last summer, I think captivated everyone, and to be given an award like this through your achievements in sport, it's a very humbling experience to go through, and a great honour as well."
Reflecting on his amazing 2012, he added: "The Olympic Games in London was probably the height of everything, plus the Tour de France.
"It was an incredible year. Although we're nearly a year on now, this puts closure to 2012, well and truly, receiving this today."
Tour de France the target
Wiggins' career is far from over, however, and he is hoping to compete in the Tour de France again in 2014, having been unable to defend his title last summer because of injury.
"That's the plan," he said. "I'm deep in training at the moment and training hard.
"Injuries wrecked this summer but I'd love to be back at the Tour de France in some capacity and to get back to the physical heights of 2012.
"Long-term, I'm focusing on gold medal number five in Rio (at the 2016 Olympics)."
In the absence of Wiggins, his Team Sky team mate Chris Froome won the Tour this year, and Wiggins accepts he may have to play a subordinate role in 2014.
"Chris is the current winner of the Tour de France and I think he has the right to defend that title next year," he said. "If I can play a support role, then I'd love to be back in a successful team and on the start line."