Thomas Voeckler to miss Santos Tour Down Under after breaking collarbone in training
Thomas Voeckler will miss the Tour Down Under after breaking his collarbone during a training ride.
Last Updated: 17/01/14 1:01pm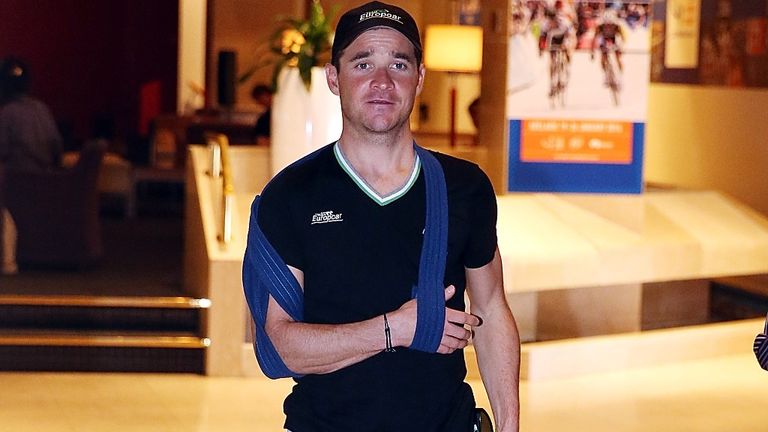 The four-time Tour de France stage winner had been due to lead the Europcar team at the six-day race, but collided with a stationary car in Adelaide on Wednesday.
He was taken to hospital and an X-ray confirmed he had fractured his collarbone for the third time.
He will now travel home to France to discover how long he will be kept off the bike.
Third break
Voeckler said: "When we go to train this morning, a pedestrian crossed the road, so a car braked very quickly and I didn't have time to brake and I bumped into the car. I immediately understand that my collarbone is broken, as it is the third time it is broken.
"After [the crash], thanks to the organisers, we went immediately to the hospital and the X-ray picture showed it was broken, so I have to go back to France and go to the hospital and see how much time it takes to go on the bike again."
Voeckler and his Europcar team-mates had arrived in Adelaide earlier in the day and were on their first training ride when the accident happened.
In a cruel twist of fate, the 34-year-old had only just had a metal plate removed from the same collarbone. The plate had been inserted after he broke the bone - for the second time - at the Amstel Gold Race last April. He had first fractured it in 2009.
Bad timing
Voeckler added: "It has been 12 days that the other plate was off [out] and it was OK but I must not crash on it.
"There was a small risk and it is the first time in my career, fourteenth year as a profesional, first time in my career I hit a car in training. That is the way it is. It is a pity.
"When it is during a race, you say to yourself, 'it is your job, there are risks', but when it is stupid like this morning, I crashed into a car, it is not the car's fault, but it is a stupid crash, a really stupid crash, but that happens sometimes. This time it happens to me."
The Santos Tour Down Under begins on Tuesday, with the People's Choice Classic preceding it on Sunday.
All six stages of the Santos Tour Down Under will be screened live on Sky Sports. Click here for details