Santos Tour Down Under: Geraint Thomas to take more relaxed approach to season-opener
Geraint Thomas has revealed he will take a relaxed approach to next week's Tour Down Under.
Last Updated: 17/01/14 1:01pm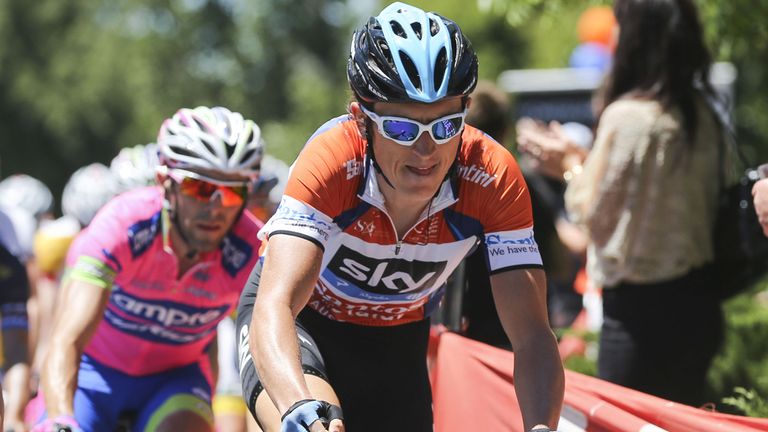 The 27-year-old Welshman was the designated leader of Team Sky for the 2013 edition and went on to win a stage, lead the race for three days and finish third overall.
This year, though, he will share leadership with Australian Richie Porte, who will be riding on home soil in Adelaide and appears more suited to a climber-friendly route.
Thomas also has one eye on the spring Classics later in the season, but insisted he will still be treating the UCI WorldTour season-opener seriously.
"I would love to go and maybe get a stage win, or be up there again on general classification," he told teamsky.com. "[But] for me there isn't quite as much emphasis on it this year.
Racing hard
"Especially with Richie going, that gives us another string to our bow. I am just looking to race hard and take an opportunity if it comes. Last year I was thinking about it a bit more, but this time I have got other goals on the horizon just after."
Although a top-tier race, the Santos Tour Down Under is ultimately a stepping stone for Thomas to the Classics, which will once again be a key early-season goal for the Olympic track champion.
Last year, he was part of a dedicated group of riders within Team Sky who trained solely for one-day races and although that approach failed to bear fruit in terms of results, the British squad will adopt the same tactic this year.
Thomas believes fully in the concept and hopes that if he can avoid the crashes that blighted his 2013 Classics campaign, 2014 will prove more successful.
He added: "Everyone saw it as a failure last year. It was I suppose if you look at the results. Personally, I felt like I was in great form when it came to the Classics. I had a real bad bit of luck and it didn't happen for me.
Game of chance
"You need a bit of luck and a good run, then at the end you see what you have got. That is what is so bad and so good about the Classics. It is that one chance you have got and then it is over again for a year. That is what makes the Classics special."
Further down the line, Thomas is also targeting a return to the Tour de France, which this year starts with three days in England.
He defied a broken pelvis to play a key role in Chris Froome's overall victory in last year's race and is determined to regain his highly coveted place in the team this summer.
"It is the biggest race of the year," he said. "To be in a team that has won it now is just unbelievable. It is something I never thought I would be a part of to be honest. I would love to go back, especially with it starting in the UK. Those three days are just going to be incredible.
"I did the race when it started in London in 2007. There was only one road stage that year and there were people everywhere. The crowds were so huge you couldn't stop to go to the toilet anywhere. There are definitely going to be a lot of full bladders on those first three stages!"
The Santos Tour Down Under takes place from January 21-26. All six stages will be screened live on Sky Sports. Click here for details.