Tour de France: Women confirmed for final day of 2014 race
Women will take part on the final day of the 2014 Tour de France for the first time in the race's 101-year history.
Last Updated: 01/02/14 1:56pm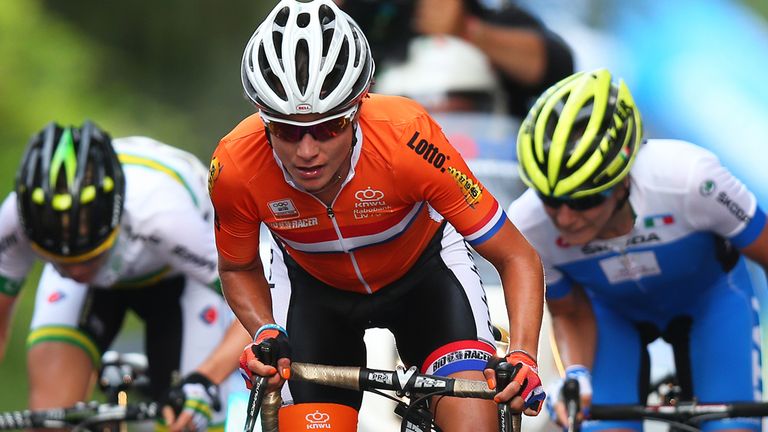 The riders in the race - called 'La Course by le Tour de France' - will finish on the Champs Elysees a few hours before the men arrive on 27 July.
The race will be part of the International Cycling Union's (UCI) elite women's calendar.
In a statement organisers confirmed: "A few hours before the men's peloton arrives in Paris...the world's elite women cyclists will race the circuit in the historic heart of the city before fighting out a final sprint at the finish line on the Champs Elysees.
"The new event will give an even more universal dimension to the Tour."
Tour organiser Amaury Sports Organisation (ADO) has been under increasing pressure from women riders and campaigners - known as Le Tour Entier (LTE) - to introduce a women's race.
One LTE campaigner is triple world road champion Marianne Vos and she said: "I am very excited to be taking part, especially with the majestic finish on the Champs Elysees.
"The Tour is the pinnacle of professional cycling and I have no doubt that 'La Course by Le Tour' identifies a new era for women's cycling and will significantly contribute to the growth of road racing."
UCI president Brian Cookson praised the initiative as a "tremendous step forward."
"The quality of professional women's road racing has long deserved a wider audience, and we are very happy that this initiative by ASO will bring the sport to many fans, new and old," he said.
This year the sport's most prestigious race will start in Yorkshire.
Le Tour Entier's online petition for women to be included was signed by 95,000 people and the organisation tweeted: "The event is destined to become an iconic race in the women's calendar."