Sir Dave Brailsford: Team Sky in good shape as European calendar gets under way
Sir Dave Brailsford believes Team Sky are in good shape ahead as European season gets under way.
Last Updated: 06/02/14 12:18pm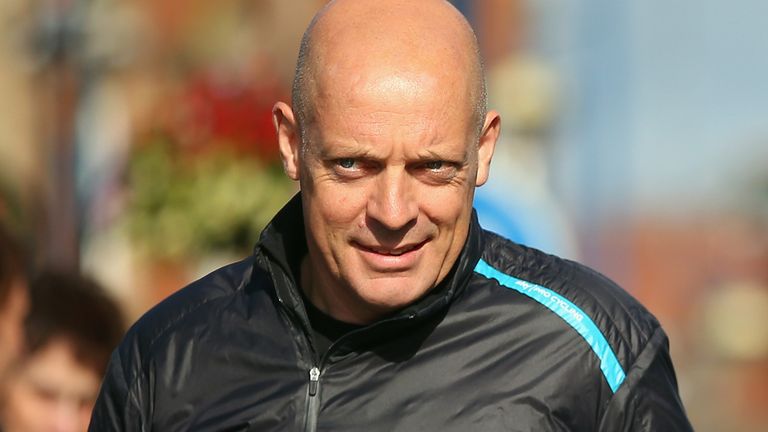 With the team now entering its fifth season on the road, morale is high as the riders and staff prepare for a calendar of racing which is set to come thick and fast.
From their base in Alcudia, final preparations are being made as Team Sky get ready to commence their European season a few kilometres up the road at the Challenge Mallorca on Sunday.
"It's been a good camp," confirmed Brailsford. "We tried to create an environment where we could do a lot of hard work. People have got tired and they've needed to be looked after. It's been about putting the miles in and doing the hard yards. I think the whole team has done a good job with that - particularly the backroom staff, who have done a terrific job, and the riders themselves.
"I think it's been a successful winter training camp and we'll soon see how we get on."
Despite a haul of 35 victories last season and an early win on the board in 2014 courtesy of Richie Porte at the Tour Down Under, Brailsford is in no mood to see the team's upward trajectory plateau. Improvements can always be made.
"I certainly think we peaked at the Tour last year," he admits. "To be fair to Bradley [Wiggins], I thought he flew the flag well at the end of the season winning the Tour of Britain, then his performance at the World Time Trial Championships was terrific.
Improvements
"We've taken stock of that and we're thinking more about building into the season and sustaining that for longer, rather than hitting it really hard early doors and dropping off in performance."
Complacency is not a word Brailsford wants to hear, with a list of past race wins counting for nothing as the pecking order re-sets itself at the start of a new season.
"There's always a danger [of complacency]. The key thing is to remember that as we start now, everyone is back at square one. Nobody has an advantage because of what we did last year. No one gets a 10-mile start or anything. We're all absolutely back to zero. And unless you've done the work - unless you've put in and unless you've done what it takes - then you're going to suffer. There's no hiding place in this sport.
"If you haven't done the work then you're not going to get away with it. You just can't be complacent. Otherwise you're going to have a really nasty shock.
"But I think there's enough ambition in the team, and young guys coming through, who want to push. That keeps everyone on their toes.
"Sport is about continuous improvement, it's about getting better. It's about being better next year than you are this year. It's a bit like Formula One. You have a car and the designers might say 'we can't think how we're going to make this any better'. But ultimately you can. And that's what we've got to do. We've got to keep looking, researching and working - trying things. And that's what it's all about."
New faces
Part of this process includes new arrivals with four riders - Philp Deignan, Nathan Earle, Sebastian Henao and Mikel Nieve - joining the team heading into 2014.
"I think the guys have fitted in really well," Brailsford said happily. "Obviously Nathan rode Down Under after late call-up following CJ [Sutton's] unfortunate accident. He fitted in really well there, as did Philip Deignan. He's a very easy, personable guy and he's got a lot of experience. [Mikel] Nieve has come in and settled really well. The improvement in his English has been dramatic since he joined the team. Everybody has noticed. He's a class bike rider, he's serious and he's fitted in really well too. Then of course we've got young Sebastian Henao who seems to be taking everything in his stride - 'cool as' for a young guy, and that's been enjoyable to watch too."
The team has also refined an extensive programme of races spanning January to October, with a couple of key factors standing out, including a long-awaited return to the Tour of California in May.
"We constantly look at the race programme every year in terms of - what are our goals and what suits our goals? Certainly California with 21st Century Fox is a big deal. We want to perform well and fly the Team Sky flag with pride over there. That's important, but we've also included a lot of one-day races this year - to give some of the guys a bit more opportunity in that kind of race and give the younger riders some chances in races where they could perform. I think that's important and we recognise adding those in was key."
All in all 2014 looks set to be a year to remember for cycling, not least because of two huge Grand Departs in Ireland and the British Isles at the Giro d'Italia and Tour de France.
As for how you prepare for such huge events: "It's all coming thick and fast," Brailsford admitted. "We've had a home Olympics and now a home start to the Tour. You almost can't stop and think about [the scale of] it, you're just planning for it. How are we going to make this happen? What are the challenges, etc. In that respect we're too busy trying to get ready for it to stop and think about it too much.
"At the same time we certainly haven't over-looked the significance of the Giro starting in Northern Ireland. A race of that magnitude starting there is exciting and that is another major opportunity. It's fantastic to see and I think the guys will all really be looking forward to competing over there too. It's a kind of double whammy for us."