Sir Dave Brailsford backs Sir Bradley Wiggins to make track return at Rio 2016 Olympics
Sir Dave Brailsford has opened the door for Sir Bradley Wiggins to make a return to track cycling.
By Matt Westby
Last Updated: 15/02/14 11:32am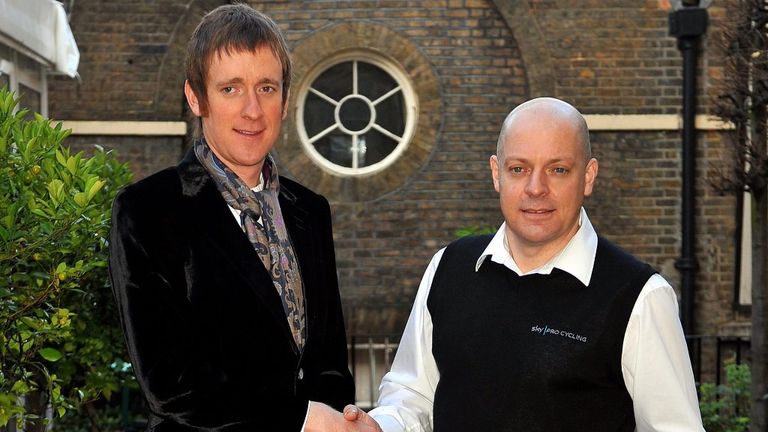 Wiggins has publicly expressed an interest in joining the men's team pursuit squad at the 2016 Games as he seeks to bow out of the sport with a fifth gold medal.
His hopes appeared to have been dented last year, when British Cycling endurance coach Chris Newton said Wiggins would have to put his road racing career with Team Sky on hold for two years in order to concentrate fully on the track.
However, when asked on Friday if a track comeback was a realistic possibility for Wiggins, British Cycling chief Brailsford replied: "I can't see why it couldn't be. That would be the end of Brad's career, I think, and if you think about a fitting end to his career, it would make a great last chapter.
"If Bradley can make the sacrifice, then, the athlete that he is, I can't see why he couldn't be selected. He would have to start thinking about it seriously a couple of years out and ride some world cups, but it is easily done.
"I think we would be in support of that, but just because he is called Bradley Wiggins doesn't mean he is going to be selected. It would be a tall order, but then he is exceptional."
Cavendish doubts
Key to Brailsford's enthusiasm for the idea is the fact that Team Sky and British Cycling come under the same management, meaning Wiggins's schedule could be easily split between the road and track.
The case is more complicated for Mark Cavendish, who has also expressed a desire to race on the track in Rio, but whose chances of doing so Brailsford yesterday cast doubt on.
Cavendish rides for the Belgian road team Omega Pharma - Quick-Step and is their dedicated leader at races such as the Tour de France.
Like Wiggins, Brailsford would be delighted to see him back in the track fold, but fears his team managers would not be so warm on the idea.
"Mark would be welcome back and I think it would be a fantastic opportunity, and it would be really interesting to see," he added.
"The issue that we don't have control of is what his team want him to do in terms of a race programme. That is up to him to decide with his team, and that will be a discussion for them.
Next generation
"Within Team Sky, it is me [who decides] - there is no issue. If you are a Belgian guy running a Belgian team and you are paying a lot of money for one of the world's best sprinters, do you want him to miss some of the key races in the season so he can go and ride the team pursuit for Great Britain in the Olympic Games? Nobody would want that to happen, so therein lies the challenge."
Another obstacle facing both Wiggins and Cavendish is competition from within the British Cycling camp.
A new generation of young riders is in the process of being blooded for the men's team pursuit, with the likes of Jon Dibben, 20, Owain Doull, 20, and Sam Harrison, 21, all making rapid progress.
Ed Clancy, who won team pursuit gold at both the 2008 and 2012 Olympics and is the squad's current senior figure, believes that while the return of Wiggins and Cavendish would be welcome, their place would be far from guaranteed.
He said: "I think he [Wiggins] will have a really good chance of making the team. Having said that, it was Jon's 20th birthday on Wednesday - when me and Geraint [Thomas, 2012 Olympic team pursuit champion] were 20 years old we were rubbish. We weren't anywhere close to the standard these younger lads are at.
"In two or three years' time, it could be a completely different game, so we will have to see. Bradley has got a good case if he wants to come back and I believe he has got a really good chance, but we don't know how good these guys [the young riders] are going to be."