Team Sky to still ride Tour du Haut Var despite having 16 bikes stolen on eve of race
Team Sky will race the Tour du Haut Var in France as planned despite having 16 bikes stolen.
Last Updated: 22/02/14 11:53am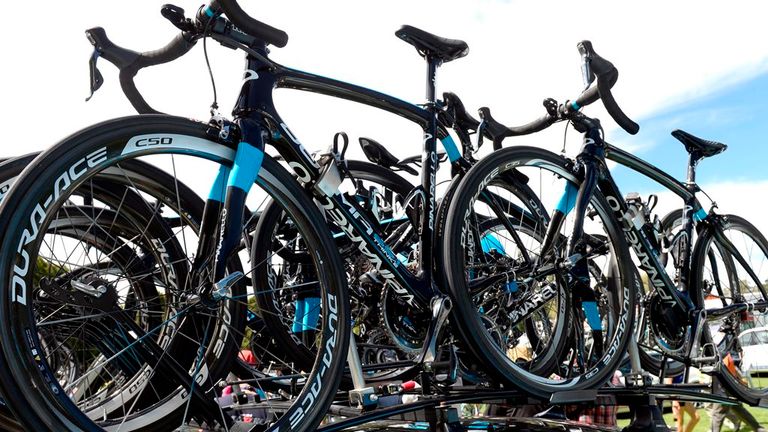 Thieves raided equipment vehicles outside the team's hotel in Trans-en-Provence on Friday night and temporarily placed the British squad in danger of having to withdraw from the two-day event, which starts on Saturday.
However, two bikes were left untouched by the robbers, while five replacement Pinarello Dogmas have been collected from a team property in Nice an hour away.
An eighth bike for the final member of the team has been borrowed from the French squad Bretagne-Seche Environnement, who are staying in the same hotel.
Sebastian Henao will ride the borrowed bike on Saturday's opening sprint stage and it will then be passed to Chris Sutton for Sunday's hillier second stage.
'The show goes on'
Team Sky race coach Shaun Stephens said: "The thieves took all the bikes, bar two, and we presume they only left those because they had run out of space in whatever transport they were using. They also took some of the spare training wheels, and various bits of other equipment.
"We are still able to take part in the race though and seven of our eight riders will be riding team-issue Pinarellos. The two that were left in the van are going to be used and we managed to source five others from our training house in Nice, which is about an hour away from where we are staying.
"Our head of operations, Carsten Jeppesen, made the trip there this morning to pick up whatever he could. We have got various training bikes and spare components, so fortunately the show goes on.
"The remaining bike we have been able to borrow from the Bretagne-Seche Environnement team, who we have been sharing our hotel with. That was a really nice gesture from them and we appreciate it a lot. Things like that really show the spirit of cycling and we can't thank them enough."
Team Sky are not the first team to be targeted by thieves, with fellow UCI WorldTour teams Cannondale, Garmin-Sharp and Lampre-Merida all having had bikes stolen in recent months.