Track Cycling World Championships: Ed Clancy confident Britain can win team pursuit gold
Ed Clancy says Great Britain are in a "good place" to win gold at the Track Cycling World Championships.
By Matt Westby
Last Updated: 23/02/14 5:41pm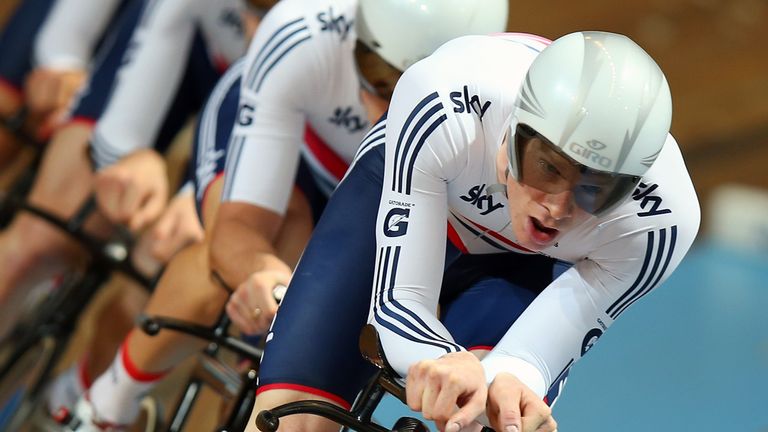 The men's quartet are bidding to regain the title they lost to Australia in Minsk a year ago and prevent their arch rivals from winning the rainbow jerseys for the fourth time in five years.
The British team remains in a period of transition, with up-and-coming young riders such as Owain Doull, Jon Dibben and Sam Harrison still settling in alongside the more established Clancy and Steven Burke.
However, they beat Australia to gold at the Track Cycling World Cup in Manchester in November and Clancy believes they have the capability to return to the top step of the podium when they race on the opening day of the world championships on Wednesday.
"We have had a more consistent run-in than we had last year," he said. "I also think we are more of a team. We have spent more time training together - we have had a Mallorca camp and we have done all the world cups together, so I feel like we have had a smoother run-in.
Hard work
"We all put in a lot in the summer road racing and we have raced a lot on the track - Europeans, world cup in Manchester, world cup in Mexico. We have taken it as seriously as we can and we are in a good place to challenge for a gold medal."
Clancy, who turns 29 next month, has been part of the Great Britain men's team pursuit squad for almost a decade and has amassed five world titles and two Olympic gold medals in a celebrated career.
He has been at the heart of the golden era that British Cycling has witnessed over the past 10 years, but says he has never enjoyed being part of the set-up more than right now.
He acknowledges that age has brought a more stress-free approach to his racing, but cites camaraderie with his younger team-mates as the main reason he is having so much fun.
"When I was younger it was always about the winning - just determined to win," he explained. "I have still got that, but the older I get, the more I enjoy being part of the team.
"A lot of these guys are a lot younger than me now, but we have some great banter and some real good times, and the atmosphere is as good as any year I can remember. I want to be with the team.
Omnium bid
"When you get on the boards, you want to be your best not just for yourself, but for your mates, so you can stand on top of the podium with a load of your good mates."
Clancy will follow up Wednesday's team pursuit with an appearance in the six-event omnium on Friday and Saturday.
Despite winning a bronze medal in the discipline at the London 2012 Olympics, he has traditionally struggled in the bunch events - the points and scratch races - and has been keen address that shortcoming over the past year.
He said: "A guy like myself will always struggle to win the points race and scratch race. It's just the way I am built. I'm doing a little bit more omnium training, and when I race on the road, instead of just wafting around at the back, I tend to think about it and run out some scenarios in the omnium.
"I try to make the most of the opportunities I have in bunch racing a bit more. I know I need the aerobic depth for the bunch races in the omnium."
The Track Cycling World Championships take place from Wednesday to next Sunday.