Track Cycling World Championships: Jess Varnish admits she feared career was over
Jess Varnish has revealed a back injury left her fearing her track cycling career was over last year.
By Matt Westby
Last Updated: 25/02/14 10:53am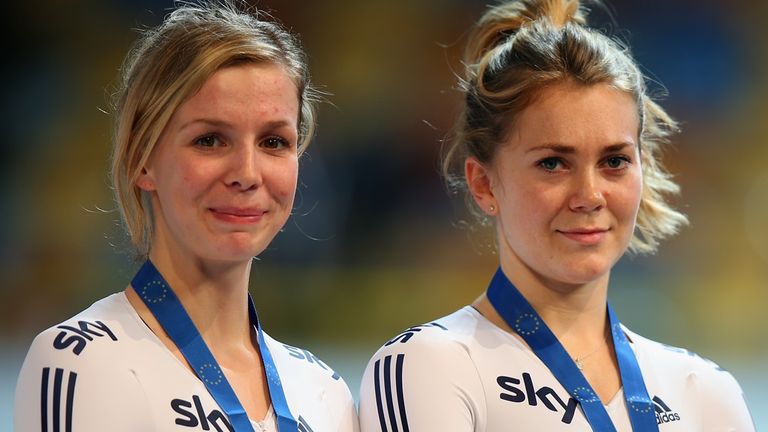 The 23-year-old sprinter suffered a torn disc in the weeks after the London 2012 Olympic Games and had to spend five months off the bike as she made a slow and painful recovery.
The injury forced her to miss last year's Track Cycling World Championships in Minsk and saw her overtaken as Britain's next big sprint prospect by Becky James, who won two world titles in her absence.
Varnish was finally given the all clear by her physiotherapist earlier this month and is now in Colombia finalising preparations for this year's world championships in Cali, which start on Wednesday.
"I am just really happy to be back in the team, because last year I was stuck at home injured and depressed," she said.
'Horrible injury'
"It was a really horrible injury. We went away to Perth on a training camp last winter and I was walking around the apartment like a granny, with a hot water bottle down the back of my trousers every night. It was so bad.
"We came back from Perth and I tried to do a lift in the gym, and I was like, 'No, this is wrong', and started crying straight away because it felt really bad. I went home on the same day and sneezed, and my legs just gave way beneath me. I was told it might be a spasm, but I said, 'I don't think your legs give way if it is just a spasm'.
"I worried all the time that I would not get back to where I was. I used to get back on my bike and try to put my hands on the handlebars and I thought, 'I don't want to do this, it is too painful'. It got to the point where I thought my career might be finished - definitely."
Varnish salvaged her 2013 calendar year by winning two bronze medals at October's European championships in the Netherlands and then a silver medal at the Track Cycling World Cup in Mexico in December.
She has travelled to Cali with "good form" and is in contention to compete alongside James for Great Britain in the team sprint on Wednesday evening, before turning attention to the individual sprint on Friday and Saturday.
While expectation on Varnish is low, James rides in the individual sprint and keirin as the defending champion in both events after a breakthrough 2013 world championships.
James mind games
She acknowledges that those performances have changed the way she is regarded by her rivals, but is adamant she will race in Cali with the same care-free attitude that she adopted in Minsk a year ago.
"I have been trying to get into the same mindset as I had last year because it worked perfectly for me, going in with no expectations and not really knowing what my outcome would be," the 22-year-old Welsh rider said. "I enjoyed it so much and I got the best out of my performances last year.
"It has been amazing racing in the rainbow jersey this year. It was hard wearing it when I wasn't on top form, but going in to these worlds, I don't think I will be conscious of it and I have been training myself not to think about winning, because if it I finished tenth on the first day, I wouldn't want to lose my head for the rest of the competition.
"Working on the mental side of it is a massive thing and it will be good to see how I can control it."
The Track Cycling World Championships start run from Wednesday to Sunday.