Track Cycling World Championships: Jason Kenny's form is slowly returning after hard year
Jason Kenny admits he wishes the Track Cycling World Championships were still another month away.
By Matt Westby
Last Updated: 26/02/14 5:41am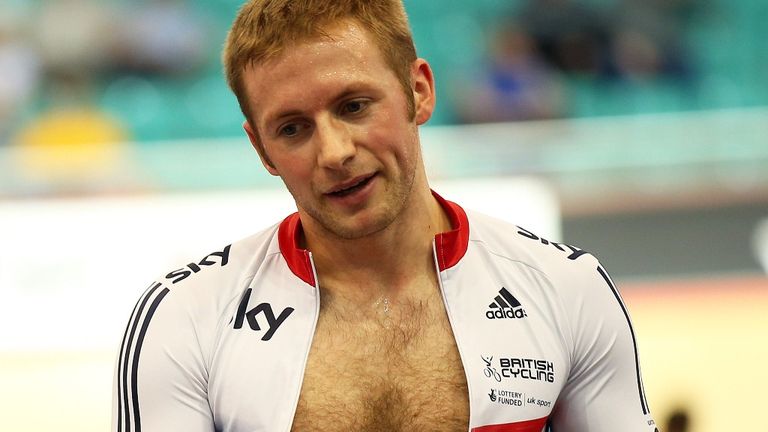 The triple Olympic champion has endured a difficult 2013/14 campaign so far and hit a trough at the Track Cycling World Cup in Manchester in November, when he failed to get past the qualifying rounds of the individual sprint.
British Cycling performance director Sir Dave Brailsford described the disappointment as a "wake-up call" and while Kenny said it was "just life", he acknowledges he has been riding a long way short of his best this season and has ground to make up.
The 25-year-old has a busy schedule in Cali - riding in the team sprint on Wednesday, defending his keirin title on Thursday and then bidding for individual sprint honours on Saturday and Sunday - and acknowledges he has a tough few days ahead.
"It has been a slow year for me," he said. "It started off well enough, but then all my speed deserted me in qualifying at the Manchester world cup and I didn't qualify.
"It has slowly been coming back, which is good. I would like another four weeks before the worlds, but I would always say that anyway."
Search for solutions
Although a shock, there was reason behind Kenny's setback in Manchester. He is traditionally "up and down" in the 200m flying lap used for qualifying and that inconsistency has been exacerbated by rivals specialising and improving in the discipline.
It has forced Kenny and his coaches to react, and they have consequently been recalibrating his bike to help ensure there is no repeat.
"I have got a million excuses if you want to hear them, but basically I wasn't quick enough and I didn't qualify, simple as that," Kenny added.
"Historically, I am a little bit up and down when it comes to qualifying. We can only speculate, but there seems to be a lot of people qualifying a lot better these days. Maybe people are getting their heads around the 200m a bit better and getting their heads around how to go fast.
"We have been creeping the gears up a little bit more than in the past. We are maybe chasing the gears a bit and making sure we are consistently better."
Kenny's concerns ahead of the world championships are not confined to the individual sprint. Great Britain won the team sprint at the London 2012 Olympics but have since struggled in the event, with the first-choice trio winning only one bronze and one silver - both in world cups - in top-level competition this season.
Team sprint challenge
The retirement of Sir Chris Hoy last winter has contributed to the dip in results, but Kenny believes the improvement of rivals such as Germany has been the main factor.
"We have been working really hard on the team event, because we have got a bit of ground to make up in that," Kenny said. "We have not been going that slowly, but everyone else seems to have made a step up, and we have been left behind a little bit.
"We have not got any particular weakness as such. It is not like we are losing all our time in the first half or the last half or the middle, we are just losing it all. All the way round we are haemorrhaging time. It is pretty depressing in that sense.
"But it is a nice clear goal: everyone just has to go a little bit better. We are moving forward. Hopefully, all being well, when we compare it to the rest of the world, we will find out we are not going too bad."
The Track Cycling World Championships start on Wednesday and conclude on Sunday.