Track Cycling World Championships: Chris Hoy backs Britain to win team sprint in Rio
Sir Chris Hoy is confident Great Britain can regain their Olympic men's team sprint title at Rio 2016.
Last Updated: 27/02/14 11:15pm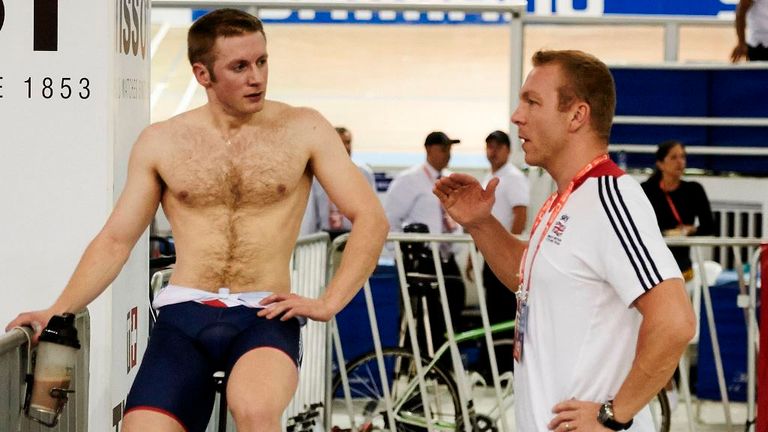 Jason Kenny, Philip Hindes and newcomer Kian Emadi missed out on a medal in Cali after qualifying only fifth fastest.
It was a disappointing outcome for the squad, which is still in a transitional phase following the retirement of Hoy last winter.
While Kenny and Hindes were part of the successful London 2012 team, 21-year-old Emadi is still bedding into the trio and has yet to find his feet in top-level competition.
Emadi backing
However, Hoy, who is in Colombia in a mentoring role, believes both Emadi and the team as a whole will come good by the time of the Olympics.
"With Kian improving over the next two years, there is no reason why they can't win the Olympics," he said.
"They will look to show what they have got in London [at the 2016 Track World Championships] in the build-up to the Games and then hopefully at the Games themselves.
"He [Emadi] has the potential to be as good as anyone at man three. Every question he is going to get is about stepping into my shoes. It is a bit unfair on him.
Olympic peak
"Don't judge him by yesterday, he still did very well. Judge him at Rio if he gets the slot."
Even with Hoy in the squad, Britain have traditionally struggled in the men's team sprint at the world championships, winning the rainbow jerseys only twice in 20 years.
In contrast, they have won gold in both of the last two Olympics, and Hoy expects the British trio to once again reach its peak in time for the Games.
"It's quite nice when you get to the Olympics and others say, 'Uh oh, here come the Brits, they are going to peak at the right time like they always do'. It will play on the minds of other countries."