Shane Sutton takes blame for Britain's medal woe at Track Cycling World Championships
Shane Sutton has taken the blame for Britain's below-par Track Cycling World Championships.
Last Updated: 03/03/14 11:33pm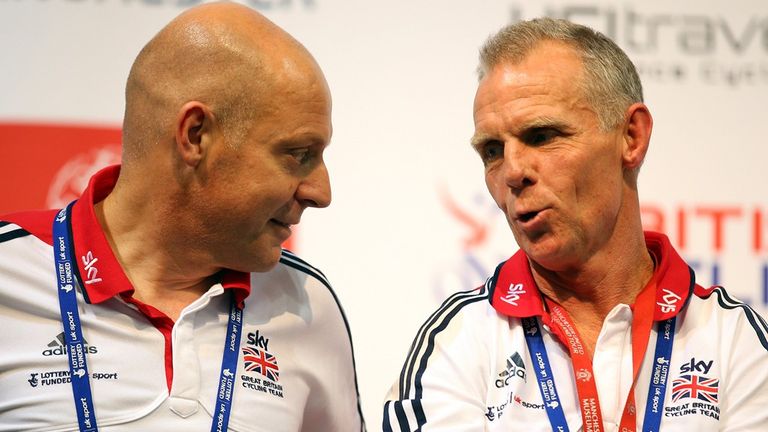 The British squad came home from Cali with just five medals - below Sutton's target - with all of them claimed by women as the men failed to reach the podium at a world championships for the first time since 1998.
Brailsford was not present in Colombia and has now missed the past two world championships due commitments to his other role as team principal of Team Sky.
Head coach Sutton, however, insisted Brailsford was not a factor in the men's disappointing results.
"The buck stops with me and I'm big enough to take it," he said. "We weren't having this conversation 12 months ago when Dave wasn't here. For people to start pointing the finger at Dave is unfounded.
"This guy has been the greatest leader in British sport history. His legacy will go on and on."
Pursuit slump
Britain's men's troubles in Cali began with a worrying eighth place in the team pursuit on the opening day. The squad was not helped by the absence of coach Paul Manning for family reasons and senior riders Steven Burke and Andy Tennant, but Sutton said the result remained a major wake-up call.
"They need to look at themselves," he said. "They got it wrong. They went out for the festive season, came back and weren't where they should have been.
"I have got concerns with the current crop of riders we have got and it's only them that can change. We have just gone backwards and I think the accountability rests with the riders."
Burke wasn't selected for the final squad due to a lack of race condition, meaning Clancy was joined by Owain Doull, 20, Jon Dibben, 20, and Sam Harrison, 21, in the four-man team.
Clancy insisted the trio were talented enough to keep Britain competitive, but Sutton disagrees.
"I don't think the other boys have got the talent, if I was totally honest," Sutton added. "And when you have got a man like Steven Burke not to make the squad, he needs to reflect on where he is going."
Boardman plea
Whether Brailsford returns to the British Cycling fold to oversee Britain's recovery from Cali remains to be seen.
He had previously revealed that he would review his position after the world championships amid personal concerns that he is spreading himself too thinly, and former Olympic champion Chris Boardman has urged the 50-year-old to either commit full-time or walk away altogether.
"I'm not sure about an overhaul, but it needs a boss," he said. "I believe Dave is making a decision on what he is going to do, but it needs a full-time boss.
"Dave would clearly be the best full-time boss, but if he is not going to do that, it might be better if somebody else comes in and takes the reins.
"He is such a character, if he is still there it is difficult for people to go in and take command, but it needs somebody like him. British Cycling is in a period of change now. The potential is all still there. It just might need somebody to pull it all together."