Tour de France: Yorkshire Grand Depart has Bernard Hinault excited
Tour de France legend Bernard Hinault expects the start of this year's race in Yorkshire to be "a big party".
Last Updated: 27/03/14 10:34am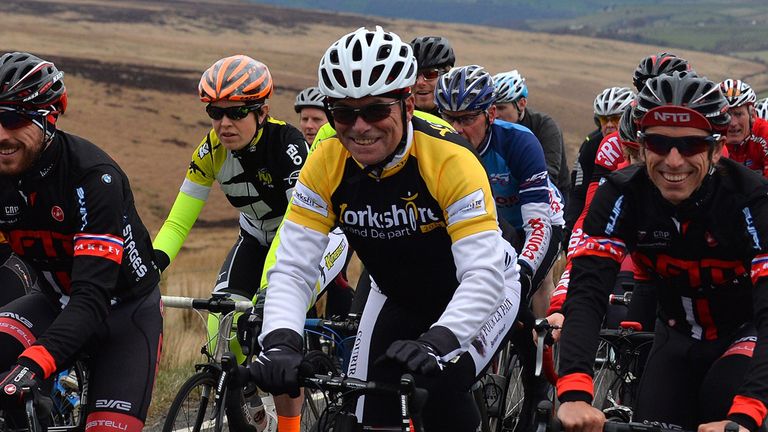 Hinault says even the French public are getting excited about the race returning to England for the first time since 2007, when it started in London in front of huge crowds.
The 59-year-old, who won the race five times, is in Yorkshire as race organisers prepare to mark 100 days before the Grand Depart in Leeds, and he was back on his bike on Wednesday to ride a short stretch of the route through Cragg Vale, near Halifax.
He feels it is the perfect time for the race to be in England, with Chris Froome, the defending champion, Sir Bradley Wiggins and sprint star Mark Cavendish all set to play a big part over the three weeks.
"It's going to be like a big party," he said. "The county of Yorkshire is going to be fantastic. Everybody is happy. They're happy that it's in Yorkshire. We wanted it to be here because we wanted to show some other parts of Britain - a different area of Britain.
'More success'
"When we were at the departure in London we never saw as many people as we did in those two days. Here's going to be exactly the same.
"Now in Britain cycling is completely opening out. It's all over the country. This is going to lead to more success in cycling.
"It's difficult to say because in '12 it was Wiggins, in '13 it was Froome. It's difficult to say what's going to happen this year. We mustn't forget about (Mark) Cavendish, though, because he's also in the running. We mustn't forget about him."
Yorkshire professional Dean Downing rode with Hinault on Wednesday and he expects Cavendish to play a major part in the British section of the race.
"It would mean everything to Mark," Downing said. "His sole goal for the start of the year is that stage. That's his first goal of the year which is 100 days away.
'Pretty special'
"It would be pretty special for Yorkshire. But when Mark Cavendish puts his mind to something he tells everybody what he's going to do and he generally gets it done. For him, personally, it would be great, for his family, but for Yorkshire as well."
Cavendish will be one of the favourites for stage one, which runs from Leeds to Harrogate over 191km, but Downing thinks things will be much tougher on day two when things could get "pretty brutal".
"In the next 100 days you might see a lots of the pro-teams, the Tour contenders, coming over with their teams to recon [reconnoitre] this stage two route," he added.
"It will be a great finish and a great spectacle for, hopefully, the tens of thousands of people who are going to come out and watch it."
Downing's brother Russell, who used to ride for Team Sky, added: "Some guys will know Holme Moss from previous races but the rest of the climbs they won't know. To be honest, myself and Dean did the last 40km the other week and we were surprised how tough it was."