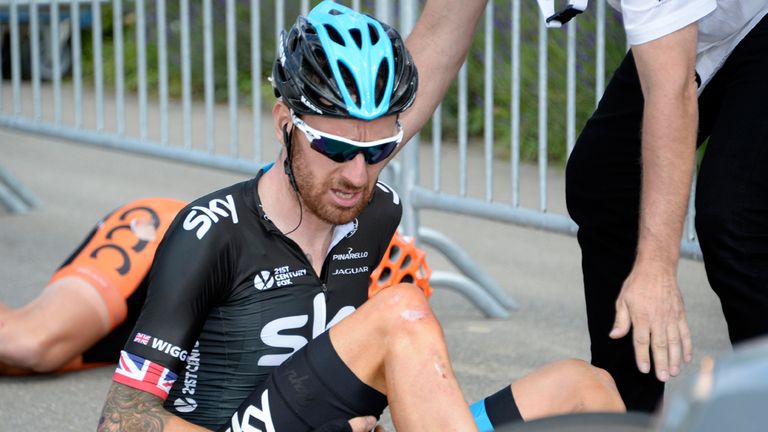 Sir Bradley Wiggins has been forced to pull out the Tour de Suisse following the crash he sustained during stage four.
Wiggins was brought down 28km from home on Tuesday and suffered bruising and swelling to his right thigh which worsened overnight.
Team doctor Steve Baynes told TeamSky.com: "Alongside the team's physio, Nathan Thomas, I assessed Bradley last night, and again this morning. He's suffered some pretty bad bruising on the left side of his right thigh muscle which is restricting his movement on the bike and obviously causing him discomfort.
"That's going to require some treatment so, having spoken to Brad, we felt the best plan of action would be to withdraw him from the race and fly him back to the UK."
Wiggins himself, was able to shed more light on how the accident happened, and stressed that his main focus now would be to recover in time to ride the British National Time Trial Championships in Monmouthshire on Thursday 26 June.
He said: "Ironically, I was the last man in the peloton, trying to stay out of trouble when it happened. They all slammed on the brakes ahead of me but there was another rider riding full gas who rode straight into the back of me.
"I've got quite a lot of swelling on the left-hand side of my right knee. It's one of those things, I've been pretty fortunate this year with crashes. I probably could have started today but it's best to play it safe and come home now. I really want to try to be ready for the Nationals next Thursday so I didn't want to jeopardise that for the sake of pushing on and potentially doing more damage.
"Friday's time trial had been my main goal for the Tour de Suisse, but I'd never have been 100% for it. I've also been struggling with a chest infection this week, which affected my ride on stage one, and that put me back a bit so I wouldn't have been able to perform at my best there anyway.
"The plan is to get home today, have 24 hours off the bike and then I'll be good to go again and finalise my preparations for Wales next week."