Joanna Rowsell hopes track background will help British national time trial title defence
By Matt Westby
Last Updated: 25/06/14 3:35pm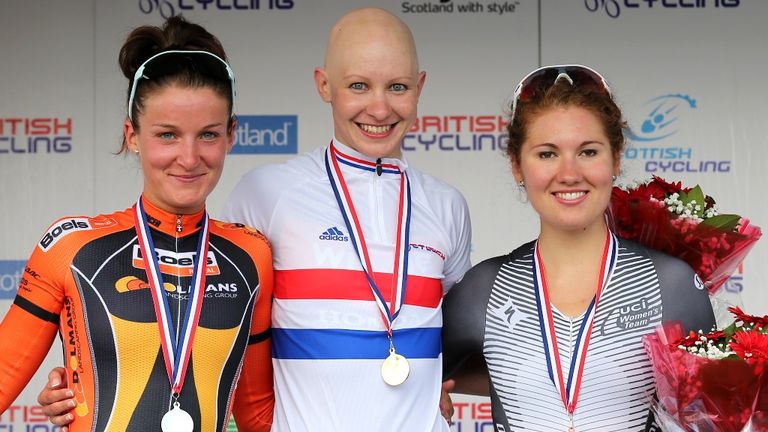 Joanna Rowsell hopes her track cycling background will boost her chances of retaining the British national time trial title in Wales on Thursday.
The 25-year-old Wiggle-Honda rider claimed last year's crown with an impressive 32-second victory over runner-up Lizzie Armitstead on a largely flat 35km course in Scotland.
The 2014 race is a considerably different proposition, though, with the 20km route taking place over rolling terrain littered with short and sharp climbs.
Rowsell is not renowned as a climber, but she hopes the short distance will take the advantage away from uphill specialists and create a more open race.
No pressure
She said: "I have got no idea how it is going to go because it is a very different course to last year. I am actually looking forward to that because I'm really interested to see how I do. I am usually all right on short climbs.
"I think the strongest all-rounder is going to win because it is such a tough up-and-down course. I am not putting too much pressure on myself, so I am looking forward to it."
The key to success could well be how well the riders negotiate one particular climb, which averages over ten per cent in gradient and reaches a maximum of 25 per cent.
I think Emma Pooley and Lizzie Armitstead are the outright favourites because it suits their style.
Joanna Rowsell
Rowsell added: "It is similar to the finish climb in La Fleche Wallonne, the Mur du Huy. It's about 1km long and gets up to about 25 per cent.
Steep climb
"Because I am a track rider, we do a lot of efforts that are three to four minutes, and I think this climb is going to be about a four-minute effort, so the length of it should suit me well."
Despite talking up her chances, Rowsell accepts she is an unknown quantity on a rolling course such as Thursday's and consequently believes the favourites for victory are more established climbers such as Armitstead and two-time British time-trial champion Emma Pooley.
"I wouldn't say I am the favourite, but obviously I really want to win as the defending champion," Rowsell said.
"I think Emma Pooley and Lizzie Armitstead are the outright favourites because it suits their style."