Tour de France: Garmin-Sharp leader Andrew Talansky refuses to rule out high GC placing
By Niall McGlone
Last Updated: 03/07/14 7:13pm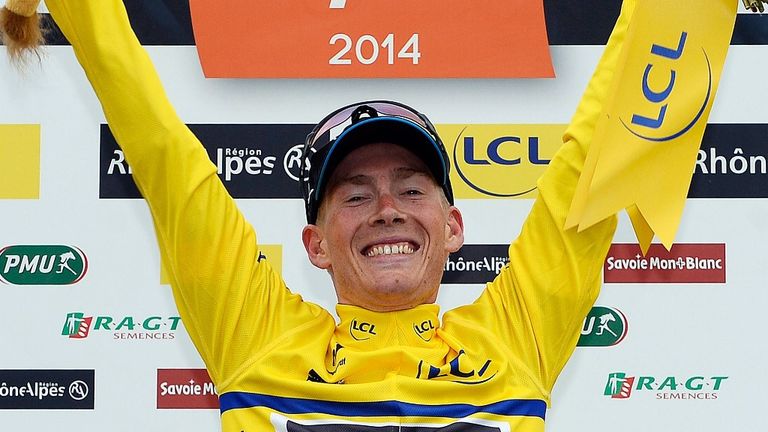 Andrew Talansky believes that it will be hard for anyone to challenge Chris Froome and Alberto Contador for this year's Tour de France, but claims his recent Criterium du Dauphine win is proof that anything can happen.
The Garmin-Sharp rider beat the two favourites for the Tour when he pulled off the biggest win of his career at last month's Dauphine after overhauling a 39-second gap on the final stage.
That win has catapulted Talansky into the spotlight and the American is now among the favourites to battle with the likes of Vincenzo Nibali and Alejandro Valverde for a podium spot. 
Speaking in Leeds ahead of the opening stage on Saturday, the 25-year-old, who finished tenth at last year's Tour, said: "I think it would be a little presumptuous to come into the Tour de France and say you are here to win the race unless your name is Chris Froome or Alberto Contador, but were absolutely going to do everything we can as a team to achieve the highest possible GC [general classification] result in Paris."
Prepared
Talanksy, who announced he had signed a two-year contract extension to stay with Garmin-Sharp, will lead the team the American team, and he feels he is better prepared for the demands of the Tour than he was last year.
He added: "Coming into this year with a clear idea of what it's going to feel like, just how much its going to hurt over the course of three weeks, is actually kind of reassuring, it's not going to be so much of a shock in the first week and going into the second week and the mountains."
Talansky believes that both he and his team-mates have learned from his Dauphine triumph, and that anything is possible in this year's Tour.
We wanted everyone to be 100 per cent healthy and that there were no exceptions to that.
Jonathan Vaughters on David Millar
He said: "From the Dauphine, I would say that I think, as a team, we learned that anything can happen, that you don't necessarily on paper have to be the best rider in the race. Bike races aren't run in labs, they are run out on the road and anything can happen, with a little bit of luck and the right combination of legs, you just have to leave yourself open to the possibilities of doing something maybe beyond your own expectations."
Millar decision
Garmin-Sharp general manager Jonathan Vaughters also explained the decision to drop David Millar from their Tour roster, after the Briton revealed he had initially been selected to ride his 13th Tour.
He said: "Basically the list that was submitted to me a couple of days after the Tour de Suisse indicated that David was going to go, and I put that to the team owners and to myself and we agreed with the list, but with the caveat that we wanted everyone to be 100 per cent healthy and that there were no exceptions to that.
"Right before the UK championships, Charly [Wegelius, the team's director] informed me and one of the doctors informed me that David was on antibiotics and that he was coughing quite a bit, and so I said this 100 per cent healthy rule has to apply to everyone.
"Charly and I agree to let it sit and let the UK championships pass and to see if there was some sort of recovery, or some form of coming back, but unfortunately, the results of those races weren't very helpful and so it was a last minute decision to pull him, and I don't think it was very much fun for Charly, very much fun for me, very much fun for anyone."