Commonwealth Games: Lizzie Armitstead motivated by near misses in Delhi and London
By Matt Westby
Last Updated: 02/08/14 4:42pm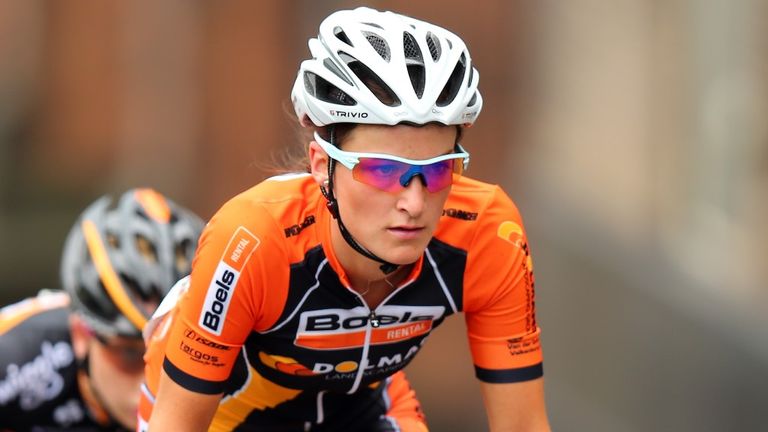 Lizzie Armitstead says she will be motivated by the memories of twice missing out on major gold medals when she bids to win the Commonwealth Games road race in Glasgow on Sunday.
The 25-year-old English rider had to settle for silver at both the Delhi 2010 Commonwealth Games and London 2012 Olympic Games road races, but has travelled to Scotland heavily fancied to go one better.
She has enjoyed arguably the best season of her career so far, picking up three wins and 16 other podium finishes, and will also be supported by both a strong England team and a partisan British crowd.
However, it will be the bitter recollections of losing in sprint finishes to Rochelle Gilmore four years ago and Marianne Vos two years later that will be her primary driving force.
"I have got a bit of a score to settle after missing out on gold in 2010," Armitstead said. "I have got lots of silver medals, from Delhi in 2010 and London in 2012, so it would be nice to pick up some golds and the Commonwealth Games is a great place to start.
'Really important'
"This race is really important to me. With it being a Scottish Commonwealth Games, it feels like a home Games and I see it as a massive opportunity to say that you are Commonwealth Games champion."
Armitstead's cause will also be aided by intricate knowledge of Sunday's course, with the 98km race comprising of seven laps of the same 14km circuit on which she claimed a dominant solo victory in the British national road race championship last year.
I think I am one of the favourites going into it. A few years ago that might have been a burden for me, but I'm starting to like it.
Lizzie Armitstead
Not only does the rolling loop suit her style, but she has also been able to tailor her training around its key sections and plan her race strategy down to the finest detail.
"I really love the course," she added. "The race is shorter than I am used to – the longer the better for me – but that just means we will have to be aggressive from the gun as a team. The harder the race the better.
'Big advantage'
"The fact I know the course is a big advantage. I have known what efforts I have had to do in training to emulate the efforts in the race."
Armitstead's preparations for the Commonwealth Games have been hampered by a crash at the one-day race La Course by Le Tour de France in Paris last weekend, which forced her to miss Thursday's individual time trial at the Games.
She nevertheless remains one of the favourites for victory and insists the expectation that comes with that status will not be a burden.
"I think I am one of the favourites going into it," she added. "A few years ago that might have been a burden for me, but I'm starting to like it.
"It's good to go into a race being prepared to win and not just thinking that I want a medal, like I have done in previous championships. I'm definitely going there to win."