Roman Kreuziger provisionally suspended by UCI over anomalies in biological passport
Last Updated: 02/08/14 6:17pm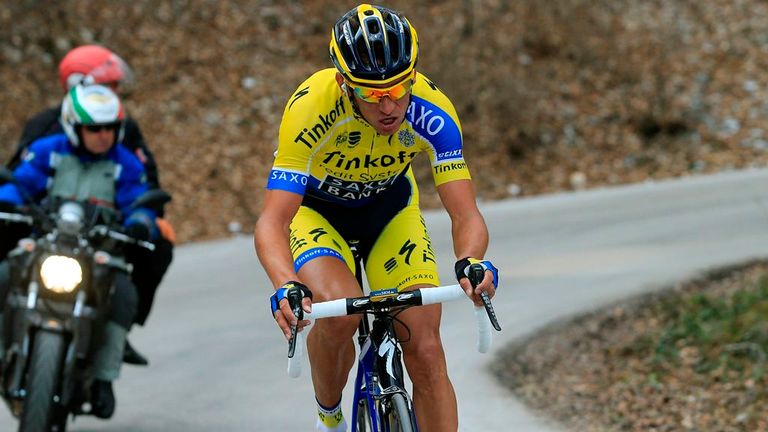 Roman Kreuziger has been provisionally suspended due to abnormalities in his biological passport, the International Cycling Union (UCI) has confirmed.
The 28-year-old Czech rider was withdrawn from his Tinkoff-Saxo team's Tour de France line-up less than a week before the start of the race after discrepancies dating back to 2011 and 2012 came to light.
Tinkoff-Saxo acknowledged at the time that disciplinary proceedings against him were "likely", but insisted the readings "had valid medical and scientific explanations".
The UCI, the sport's world governing body, has now initiated those proceedings, after Tinkoff-Saxo named Kreuziger in their line-up for the Tour of Poland, which starts on Sunday.
'Anti-doping rule violation'
A UCI statement said: "The Union Cycliste Internationale has imposed a provisional suspension with immediate effect on Tinkoff-Saxo's rider Roman Kreuziger [Czech Republic] in connection with the recent assertion of an anti-doping rule violation based on his athlete biological passport.
"The decision was taken following confirmation received on August 1st, 2014 that Roman Kreuziger intended to participate in the upcoming Tour of Poland and Vuelta a España."
Tinkoff-Saxo have reacted angrily to the timing of the suspension, as it gives them only 24 hours to send a replacement for Kreuziger to Poland.
A team statement said: "Roman Kreuziger will not take part in the Tour of Poland, which begins Sunday, as he will remain suspended from all racing until a verdict has been reached in Roman's case.
'Without solid evidence of wrongdoing'
"Tinkoff-Saxo cannot avoid criticising the timing of this decision, as the rider and team was notified less than 24 hours before the start of WorldTour race Tour de Pologne.
"The team notes that this materially impairs its participation in this important race and that Kreuziger receives his provisional suspension without solid evidence of any wrongdoing, but only based on the opinion of medical experts of the UCI Anti-doping Commission."
Kreuziger joined Tinkoff-Saxo in 2013 and went on to finish fifth in the Tour de France that year.
Despite withdrawing him from this year's Tour, where he was set to be a key support rider for Alberto Contador, Tinkoff-Saxo decided not to suspend him and had pencilled in the seven-day Tour of Poland as a comeback race. Kreuziger last raced at the Tour de Suisse in June.