Vuelta a Espana: Chris Horner will not defend title after being withdrawn by Lampre-Merida
By Matt Westby
Last Updated: 22/08/14 2:38pm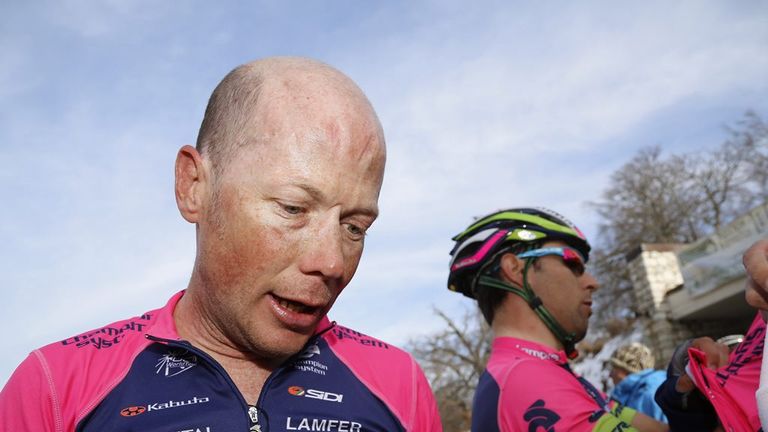 Chris Horner will not defend his Vuelta a Espana title after being withdrawn from Lampre-Merida's team on medical grounds.
The 42-year-old American has been suffering from bronchitis in recent weeks and although he received a theraputic use exemption (TUE) from the International Cycling Union (UCI) to use a cortisone-based treatment, the medication subsequently lowered the level of the hormone cortisol in his blood to below accepted levels.
While he would be allowed to race by the UCI, Lampre-Merida are part of the Movement for Credible Cycling (MPCC), which is a group of teams committed to clean cycling that demands a minimum level of cortisol from the riders of its members.
A reduction of cortisol in the blood is indicative of use of cortisone, a banned steroid, so the MPCC impose a minimum value, which Lampre-Merida have decided to adhere to even though Horner had permission.
'Sad news'
Horner, who became the oldest Grand Tour winner in history by taking overall victory at last year's Vuelta, said: "Of course I'm sad about this news. I was willing to try to defend the 2013 title. The Vuelta was my main target in the season. The team signed me with the aim of being competitive in the Spanish race, but I accept the decision linked to the MPCC's rules.
"This bad bronchitis caused me a lot of problems. I have been suffering from it for weeks and this treatment could have allowed me to solve the problem. [The] UCI gave authorisation for the treatment - I could race according UCI rules - but my team is a member of MPCC. I understand it and we all must accept this situation without regrets."
Lampre-Merida have called up Italian Valerio Conti to replace Horner and will now look to the likes of Poland's Przemyslaw Niemiec and Italy's Damiano Cunego to spearhead their challenge in the general classification.
A team statement said: "With this decision, the team reaffirms its adherence to the principles underlying the MPCC organisation, agreeing to respect the rules and regulations and not to allow the athlete to start the Vuelta even though this is an important appointment for the athlete after an investment had been made on behalf of the team."
The Vuelta starts on Saturday and ends on September 14.