Full speed ahead
Laura Trott tells Sky Sports how determined she is to achieve more success after her exploits at the London Olympics
By Alex Williams
Last Updated: 08/04/13 5:52pm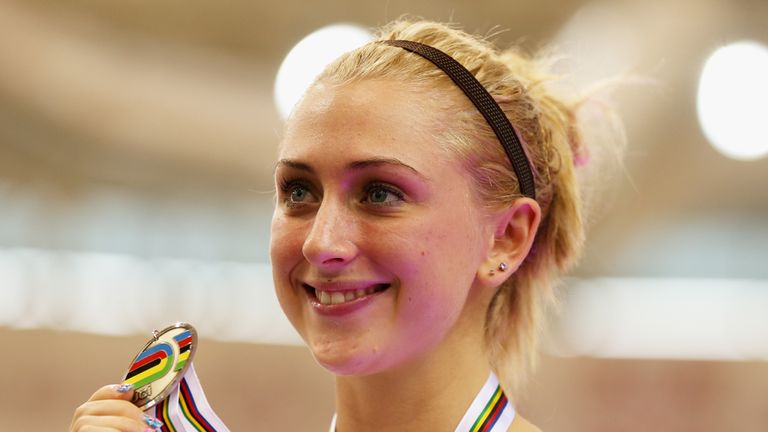 Not many had it better than the track cyclists, who left the rest of the world scrapping for just three of the ten gold medals on offer by the time they had finished delighting the velodrome crowd.
While the likes of Sir Chris Hoy and Victoria Pendleton were already household names going into the Games, Laura Trott was the pick of the "new generation" as she claimed gold in both the team pursuit and multi-event omnium.
With so many post-Games distractions on offer for Britain's successful Olympians, will Trott, who at just 20 years old is already a double gold medallist at a home Olympics, find it hard to stay motivated during the grinding four-year cycle leading into Rio 2016?
"I don't reckon I will find it that hard, to be honest," she told Sky Sports.
"I found after the Games hard because I didn't expect that to happen. Obviously, I dreamt that I might win two [gold medals], but I never sat there in bed thinking, 'You know, If I win two then I'm going to get sponsors, I'm going to get pulled to this party, that party'.
"You don't think that, so afterwards I think I found it hard initially, because it was just mad and I didn't expect it. When the [2013] World Championships came around I was just like, 'I want to win, I want to win everything'. I was gutted that I didn't win the omnium.
"I don't think I will find it that hard because I just want to win, that is just me and it is all I know."
In Minsk this February, Trott helped Britain retain their world title in the team pursuit alongside Elinor Barker and fellow Olympic star Dani King, but was beaten to gold in the omnium by London silver medallist Sarah Hammer, of the United States.
Despite disappointment in the omnium, Trott's first step on the road to Rio was an encouraging one and the four-time world champion, who grew up just outside the boundary of the M25 motorway, said she will not be fazed by a lack of home comforts in Brazil.
Different
She added: "It will be nice that it will be different. If they were all the same you wouldn't want to go again, would you? You would be like, 'Been there, done that'. It is nice that it is different."
The Commonwealth Games in Glasgow next summer will be a little closer to home. Trott seems keen to participate, but with her main two events not being in the track cycling programme there, she may be forced to adapt.
"I would say I would stick to them [the team pursuit and omnium], but they are not at the Commonwealth Games," Trott said. "At the Commies I would like to see how I go in the individual pursuit.
"I just don't like individual pursuit training, though, I like the fact that you can train as a team. All I have ever done is team pursuit training, that is just how I ended up winning the omnium.
"I like being in a team - it is just a better environment - so I don't think I would handle the individual pursuit training."
The track events for Rio are yet to be confirmed, with the International Cycling Union wanting to add a sixth medal event for both men and women to the itinerary.
Both the Madison and points race have been mooted to return, with some speculating that the omnium could make way, but Trott is staying calm ahead of any possible alterations.
She said: "I actually heard that they are going to add events rather than pull any, so hopefully the omnium will stay in and they will just put a points race in.
"Because then, if I want to beat Sir Chris Hoy's record, I wouldn't have to do that many more Olympics. If I win three there..."
She already has one eye on Hoy's British record of six Olympic titles?
"It would be nice, wouldn't it?"
Laura Trott was speaking at the launch of the first ever inline range of adidas cycling apparel. For more information go to www.wiggle.com, or join the conversation @adidasuk