Alex Dowsett still walking on air after taking historic Grand Tour stage win at Giro d'Italia
Alex Dowsett tells Matt Westby what it was like to join an elite band of British cyclists and complete his first Grand Tour
Last Updated: 29/05/13 12:30pm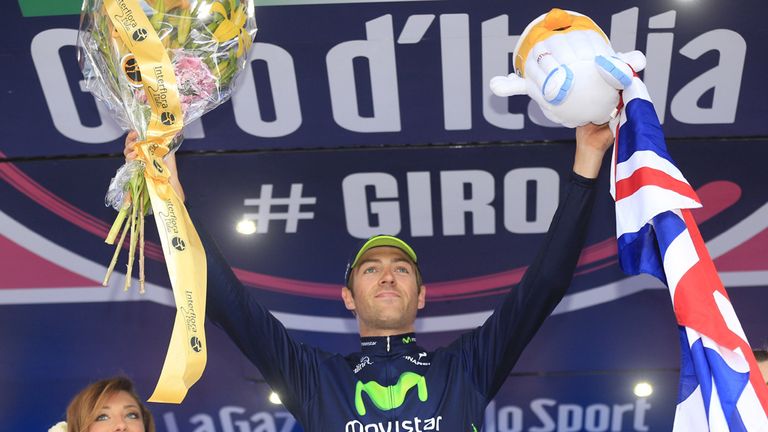 More than 3,000km, 20 days of punishing racing and a handful of snowstorms later, Britain's Alex Dowsett is back home having achieved both. "It's surreal," he admits.
Not only did Dowsett complete the Giro d'Italia, his first three-week race, but he also won a stage, becoming just the 16th Briton in history to taste victory at a Grand Tour.
His moment of glory came on stage eight's individual time trial, a 54.8km, multi-faceted test that included tight, technical turns and a punishing climb to the finish line.
Out early, he posted a mark of 1hr 16min 27secs and then had to sit and watch on helplessly for over an hour as, one by one, his rivals tried and failed to eclipse him.
"The wait was excruciating," Dowsett, who is the British national time trial champion, says. "I was chatting to Bradley Wiggins afterwards and he said he didn't know how I sat and waited and watched.
'Absolutely thrilled'
"I was absolutely thrilled with the win. I didn't expect to go to my first Grand Tour and pick up a stage win. I thought top 10 or top five could have been realistic, so I was pretty made up."
Dowsett, 24, made light work of the opening, technical sections of the course, pressed home his advantage on the flat and straighter middle parts and then dug deep to consolidate on the climb to the finish.
It was the outstanding time-trial performance of his career, yet Dowsett, who races for Movistar, had little idea of how well he was riding.
"With it being such a technical course, it was so difficult to judge how I was going," he explains. "Because I am with a Spanish team, they don't speak any English. It is difficult to understand team radios when they are in English, nevermind Spanish.
"When I came through the first checkpoint [after 26km], I heard 'a minute and a half to Taylor Phinney', and I thought they said I was second. I thought, 'Blimey, Phinney is going bloody well if he has taken a minute and a half out of me 20 minutes in'.
"But then, just before three-quarters of the way through, I caught Taylor, who had started three minutes ahead of me, and then I was like, 'Oh, OK, I must have been a minute and a half ahead of Taylor'.
"I knew then I must have been on a good ride, but wasn't sure, so just wanted to get it finished and see what happened."
Newspaper cuttings
The rest, of course, is now history. And Dowsett cherishes it all: the wait, the celebrations, the podium and, finally, the acclaim.
"My dad has been keeping all of my newspaper cuttings since I started racing and he has got about 10 or 15 scrapbooks full," he adds. "Now there is one solely dedicated to the Giro.
"I got back home the other night and went through it and to see my name in the headlines alongside Sir Bradley Wiggins was strange. There are only 16 Britons that have won Grand Tour stages, and I am a part of that little club now."
With the time trial out of the away, attention turned to the mountain stages still to come and surviving to the end of the race in Brescia 15 days later.
The hills were not the only obstacle barring the way, though, because some of the worst weather many can remember at the Giro provided an additional test in the form of torrential rain and, higher up, heavy snow and freezing temperatures.
Older, more seasoned British heads such as Wiggins and David Millar abandoned the race and went home after picking up illnesses, but Dowsett stayed healthy and determined.
And reward came when the conditions dealt a helpful hand, with the cancellation of the brutal 19th stage, which contained 4,300m of climbing, including an ascent of the epic Passo dello Stelvio, and the significant flattening of the equally tough 20th stage.
"Because of the weather, everyone was saying it was harder," Dowsett adds. "But they took out the Stelvio and flattened the stage afterwards - two days that were going to be absolutely brutal.
"In terms of the mountains, we got off quite lightly, but with that came the weather and the challenges that gave.
Cold snap
"But being based in England, myself, Adam Blythe, Mark Cavendish, the weather wasn't too much of an issue for us compared to some of the guys from warmer climates. Certainly, within my team, I was always the last one to put my gloves on."
So it was easy, then? On the contrary.
"It was very difficult," Dowsett insists. "There were times when I was absolutely shattered and wondering how exactly I was going to get through to the end.
"There was one day when I got dropped early on. It was the day after the second rest day and I thought, 'This could be it, this could be me out of the race', but I thought, 'I'll keep fighting and see what happens', and I managed to get back in.
"It was in the back of my head that if I finish this, it shows that I am capable of finishing a Grand Tour and with the Tour de France starting in Britain next year, I would love to be a part of that. I was thinking that I need to prove that I can finish these races."
With the point now proven and a win on his palmares, Dowsett can look forward to his next Grand Tour with a little less trepidation than his first.