Tributes to Froome pour in
Tributes from Prime Minister David Cameron and many others have come pouring in to mark Chris Froome's historic achievement.
Last Updated: 22/07/13 3:52pm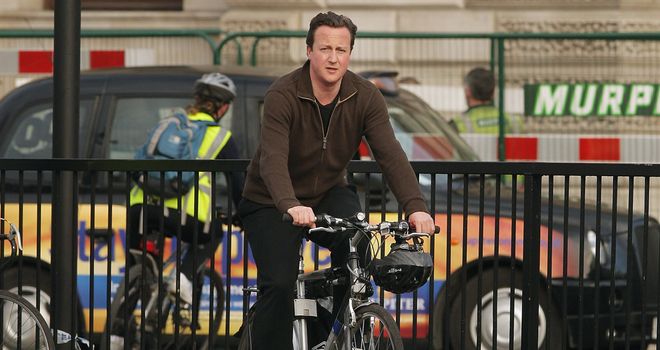 Tributes have come flooding in since Chris Froome wrapped up Team Sky's second consecutive Tour de France title on Sunday and here we share some the some of the most memorable.
David Cameron, Prime Minister:
A brilliant win by Chris Froome. After two British winners it's only right the Tour de France comes to Yorkshire next year.
Hugh Robertson, Sports Minister:
Congratulations to everyone at Team Sky for Froome's fantastic win. He rode superbly for three weeks and no-doubt will have inspired even more people to participate in cycling.
Brian Cookson, President of British Cycling:
Chris's victory in the biggest bike race in the world rounds off what has been a truly glorious year in the history of British cycling. Chris's performance is testament to both his commitment and talent and of all the people who have contributed to his success. He is not the only success of this year's Tour, Peter Kennaugh, Ian Stannard, Geraint Thomas and Mark Cavendish have all excelled, and they are all products of British Cycling talent programmes.
Sir Chris Hoy, Six-time Olympic track champion:
It is a huge achievement and I almost feel sorry for Chris because people are almost getting blasé about it, but if you take a step back and get some perspective, you can see what a monumental achievement it is for him to have actually won the Tour de France. Just a few years ago we did not have anyone who could podium, but now we have two cyclists who can win the Tour in consecutive years. It is a phenomenal achievement.
Victoria Pendleton, Double Olympic track champion:
Chris Froome is an absolutely phenominal athlete. It blows my mind to think how incredible his performances have been throughout the Tour.
David Coulthard, Winner of 13 Formula 1 Grands Prix:
Congratulations Chris Froome! What a gracious and inspirational acceptance speech, other sports people take note!
Stephen Fry, British actor, comedian, author, journalist, broadcaster, film director:
What a day of sport! Geraint Thomas, despite having a fractured pelvis finishes the Tour de France! Many congratulations G, Team Sky and Chris Froome!
The Maccabees, British indie rock band:
Congratulations Chris Froome and Team Sky!
David Kinjah, Chris Froome's former cycling mentor and coach:
Even though we don't see each other so much any more he has lived in my dreams. He is wearing the yellow jersey every day and I almost felt I was wearing it myself.
Inspired to get on your bike by Chris Froome and Team Sky at the Tour de France? Then visit www.goskyride.com for rides for all ages and abilities.