Tour de France 2013: Chris Froome can dominate, says Brian Smith
Chris Froome and Team Sky can dominate the Tour de France for the next five years, says Brian Smith.
Last Updated: 25/07/13 11:23am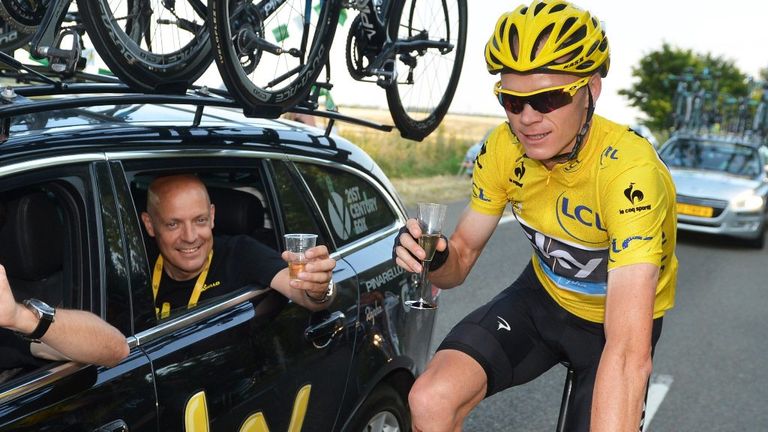 Froome, 28, was crowned champion of the 100th Tour de France on Sunday and Smith, who twice won the British road race title, reckons the 28-year-old can add plenty more yellow jerseys to his collection with the support of several young, talented and home-grown team-mates.
"Twenty-eight in some sports is old but Froome is just coming into his prime as a cyclist," Smith told Sky Sports News HD.
"A cyclist is normally at their peak between 28 and 32 so for pretty much the next four or five years he's going to be at the top of his game.
"His life has changed now, whether he likes it or not, and he'll have to take that responsibility on - but that's what comes with winning the yellow jersey at the Tour de France, especially in its 100th year.
"Team Sky have now won the Tour with two different riders, after Bradley Wiggins last year, and this time they had Geraint Thomas, the Welshman, there.
"He cracked his pelvis on the first stage in a crash but who was still there at the end, and they had Peter Kennaugh and Ian Stannard, two young Brits who were doing their first Tour de France.
"So they're starting with a new team now, a new champion and they can only go on to bigger and better things."
After the Lance Armstrong doping scandal came to light and dogged the sport earlier this year, Smith believes Froome is the ideal champion to take cycling into a new, clean era.
And he says there is a new wave of young riders determined to succeed without doping, which will see the sport go from strength to strength in the coming years.
Leader
"Froome, until two or three years ago, wasn't touted as a Tour de France winner," said Smith. "He was second in the Tour of Spain and then second [at the Tour] looking after Wiggins last year.
"Everybody thought 'can he take the pressure?' but in the first time he's come to the Tour de France as leader he's come through.
"Second place went to young Colombian Nairo Quintana, who is 23, so there's a new generation of cyclists coming through. We want to get rid of the past, the Armstrong stuff, and I think we've turned a corner.
"It was also nice to see young German sprinter Marcel Kittel coming up and winning four stages - Mark Cavendish will have to come back next year and think 'how can I do this?'. And I know he's already thinking about it.
"We've not seen the finish of Mark Cavendish."
Froome's success comes on the back of Wiggins' 2012 triumph and, with Britain winning five of the 21 stages (second only to Germany, who scooped six), Smith says elite cycling in this country has never been stronger - and the new Tour champion can inspire plenty of young riders to follow in his tyre tracks.
"In my day you were lucky to see one rider from Britain in the Tour de France," said Smith, who raced in the 1990s.
"Now we're winning the Tour for the second year in a row and have all these riders coming through: Kennaugh, Stannard and Thomas. I think it's terrific.
"Wiggins was a great icon last year and Froome, although he is a different rider, everyone can look up to him now."