Lizzie Armitstead blog: I told Jo Rowsell she can have the British TT title but I want the road race crown
In her opening Sky Sports blog, Lizzie Armitstead discusses the national championships.
Last Updated: 19/08/13 5:28pm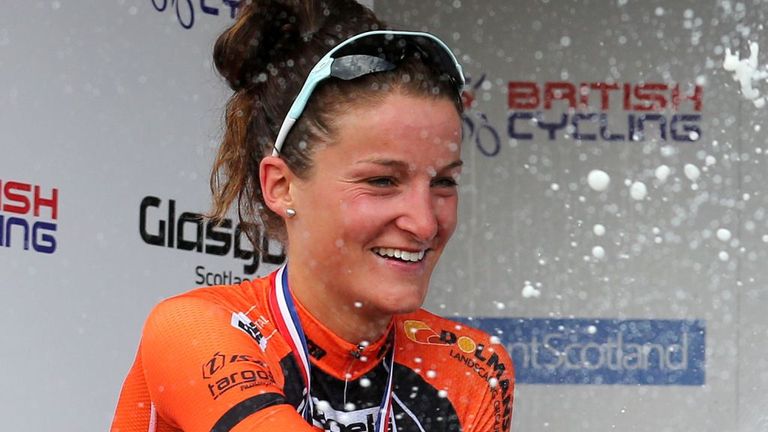 I am going to be a writing a piece every few weeks and am hoping that my words will give cycling fans and people new to the sport an insight into what it is like to be a professional racer.
Hopefully, it will prove interesting and entertaining, and contribute in its own small way to the boom that cycling is enjoying at the moment.
It seems like we have got a new generation of riders emerging right now and it is a really exciting time to be in and around the sport. With a bit of luck, this blog can help keep that momentum going and maybe even inspire people to start riding bikes.
I am actually just recovering today after racing in the British National Time Trial Championships in Scotland yesterday.
Silver lining
I ended up coming away with a silver medal, after being beaten my old pal Jo Rowsell. I was expecting to get beaten by her, to be honest, but I was hoping for a medal, so I was pretty happy with second place.
Time-trialling is not something that I concentrate on. It is always something that I do because you have to in stage races. I never enter into individual time trials. It was actually my first time trial since the Olympics in London, so it was a bit of a shock to the system.
My season has been up and down so far with the way I have felt on the bike and, luckily, yesterday was one of the few good days I have had this year, where I felt like my old self and felt strong.
That said, Jo is on Olympic champion and she has been concentrating on the time trial, so it would have been hard to beat her even on my very best form.
I am delighted for Jo. It was a big breakthrough for her on the road. She is one of those athletes where, if she puts her mind to it, there is not much you can do to stop her. She is just very, very strong. She was my favourite before the race and it is a great sign for her future on the road.
We have been best friends in cycling since we started. We both came through the talent team programme, we are the same age and have grown up through cycling together. We had a good a laugh together on the podium. I told her she can have the title yesterday, but in the road race on Sunday, she better steer clear!
I have some media commitments later today, but my focus in now turning towards that event. My main two goals for this season have always been the national road race and the world championships road race in Italy in September, so Sunday is a really big day for me.
National pride
It is a chance to get the British title, which means that you get to wear the national jersey, which is really important, I think. You feel proud to wear it and almost like you cannot hide in races. I like a little bit of extra pressure and feeling like I need to do my jersey justice.
I mainly hope I can win it just so that I can get out of my bright-orange team outfit! The sponsors are fantastic and really enthusiastic, they have invested a lot into women's cycling. The only downside is their company's colour is bright orange, which is a nightmare!
Seriously, though, I am hoping the course will suit me. The pattern of the route is kind of: punchy climb, recover, and then punchy climb again. It is also really tight and technical, and with the weather being potentially not so good, it could suit my skilful riding ability.
The crowds up here have been amazing so far. Obviously, we are not going to get crowds like we got in the Olympics last year, but with it being in the city centre of Glasgow, people who don't know there is a bike race on will be confronted with it and end up taking notice and watching. That swells the numbers, so it is really good for cycling and the event, and also makes it exciting for the riders.
The reigning champion is Sharon Laws, but she had a really bad accident this year and had two-and-a-half months off the bike. She is on the comeback trail and is one to look out for, but I wouldn't count her as my main rival on this course.
I think Jo will be a big contender again. Normally, her problem is struggling in big pelotons, but there won't be that issue here because it is a much smaller field than what we race in Europe, so she will be at the front and, ultimately, she is strong.
I'm really looking forward to the race and, hopefully, when I write my next blog, I will be telling you what it felt like to win. Fingers crossed.