Kanstantsin Siutsou Tour data
TrainingPeaks' Dirk Friel gives us the inside track on Kanstantsin Siutsou's files from the first two stages of the Tour de France.
By Dirk Friel
Last Updated: 02/07/12 2:16pm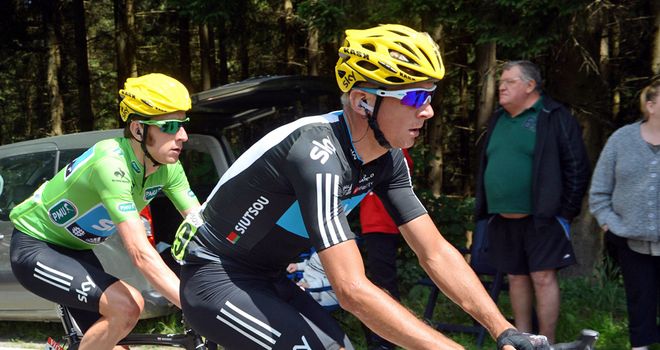 We'll be updating this feature throughout the next three weeks of the Tour de France so keep checking back at regular intervals:
Prologue - Liège (ITT) 6.4km
Results:
1 Fabian Cancellara (Swi) RadioShack-Nissan 0:07:13
2 Bradley Wiggins (GBr) Team Sky 0:00:07
3 Sylvain Chavanel (Fra) Omega Pharma-QuickStep
63 Kanstantsin Siutsou (Blr) Team Sky 0:00:25
Click here to view the TrainingPeaks Activity Viewer for the prologue
Stage Summary by the Numbers:
Training Stress Score: 92 TSS (Including warm-up)
Energy: 204 KJ
Average Cadence: 101 rpm
Average Watts: 446 W
Normalized Power: 446
Max Watts: 878 W
Peak 1-minutes: 537 W
Doing well in prologues takes a special kind of rider who can hold a very aerodynamic position and also be able to withstand a large amount of lactate build-up in the muscles for a relatively short amount of time. Depending upon the course there is an element of bike handling skills where a rider must take chances in corners in order to be the winner.
Team Sky's Kanstantsin Siutsou rode a solid prologue and finished in 63rd place, losing just 25 seconds. The main objective for Siutsou was to simply stay safe and test his form on this opening day of the Tour de France.
Siutsou averaged 446 watts which translates to 6.3 watts per kilogram of body weight for this 70 kg rider. He covered the 6.4 km course in 7:37 and averaged 50 kph. Besides maintaining a high speed throughout the course the riders had to slow down dramatically for two turns which saw Siutsou drop all the way down to just 9 kph. After the dramatic drop in speed he had to sprint back up to speed at over 600 watts for 10 seconds each.
Team Sky's Head of Performance Support, Tim Kerrison, explains why the team chose Kanstantsin Siutsou to represent Team Sky in this year's Tour de France: "Kanstantsin Siutsou (aka Kosta) is one of the strongest guys on the team in all terrains – a real workhorse on the flat, but can go right into the high mountains if required.
"He has been a member of all our stage race victories this year (except ZLM) – Algarve, Paris-Nice, Romandie, Bayern-Rundfahrt and the Dauphine (only Kosta and Richie Porte raced in all these races).
"When we accepted the challenge of pursuing multiple objectives at the Tour, we knew we needed super-strong guys like Kosta who can take on very high workloads, performing at the highest level, day-in, day-out. He also finished ninth in the Giro last year, so he's a genuine performer in his own right."
Stage 1 Liège - Seraing 198km
Results
1 Peter Sagan (Svk) Liquigas-Cannondale 4:58:19
2 Fabian Cancellara (Swi) RadioShack-Nissan
3 Edvald Boasson Hagen (Nor) Team Sky
26 Kanstantsin Sivtsov (Blr) Team Sky
Click here to view the TrainingPeaks Activity Viewer for stage one
Stage Summary by the Numbers:
Training Stress Score: 288 TSS
Energy: 4030 KJ
Average Heart Rate: 120 bpm
Max Heart Rate: 196 bpm
Average Cadence: 87 rpm
Average Watts: 195 W
Normalized Power: 268
Max Watts: 914 W
Peak 1-minutes: 571 W
Peak 6-minutes: 453 W
Peak 20-minutes: 356 W
The first stage of the Tour de France is always a nervous affair as every rider is on good form and wants to ride at the front. The speeds on these opening stages can be very dangerous especially when on narrow Belgian roads.
This year's opening road stage wasn't an ideal finish for the sprinters as the race turned uphill within the final few kilometers. The main general classification contenders had to race all the way to the finish as time gaps would be inevitable.
As the race neared Seraing, the pace sky rocketed in the final 10 kms. By looking at Siutsou's SRM race file within TrainingPeaks we can see he averaged 356 watts and 56 kph for the final 20 minutes of racing. The intensity only went up as on the final 2.4 km climb as Siutsou averaged 473 W and 190 heart rate!
A job well done by Siutsou as he placed 26th just a few spots behind Team Sky's leader Bradley Wiggins. Stage two to Tournai, Belgium should be a day where Siutsou is tasked with helping Mark Cavendish take his first sprint victory of this year's Tour de France.