Kerrison toasts Tour team
Tim Kerrison has labelled Team Sky's whole squad 'incredible' following their dominant performance at the Tour de France.
Last Updated: 22/07/12 5:54pm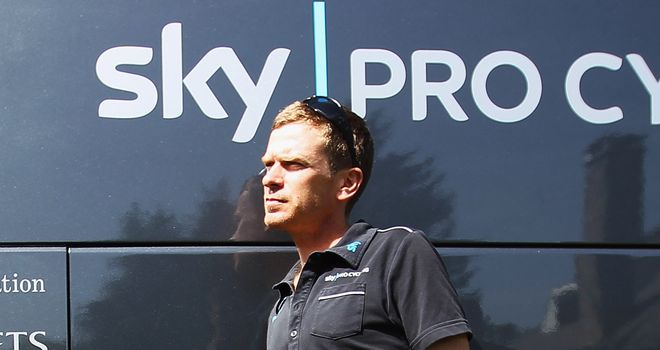 Tim Kerrison has labelled Team Sky's whole squad 'incredible' following their dominant performance at the Tour de France.
Head of Performance Support Kerrison and Race Coach Rod Ellingworth have played pivotal roles in the training regime which has helped generate an almost-unprecedented run of success this season.
Not only was Bradley Wiggins's 13-day stay in the yellow jersey the longest for 31 years, the nucleus of Team Sky's Tour de France-winning team also tasted success at the Volta ao Algarve, Paris-Nice, Tour de Romandie and Criterium du Dauphine leading into the Tour.
Kerrison and Ellingworth have received plaudits for helping mastermind such a run, but both were keen to credit others as they explained the processes they've put into place to enable the riders to flourish.
Ellingworth said: "We wanted to try and do things slightly differently. Not to change cycling but to challenge some of the ways cycling has been run in the past from a professional side.
"So doing that, getting over that barrier and moving it on, and then Dave Brailsford in particular - with the way that he is and how he manages and pushes everyone hard - is a hell of an achievement."
Three-year process
Going into detail about the environment they have created, Kerrison told Eurosport: "We've mapped out every aspect of what it takes to win the Tour de France.
"It's been a three-year process which started with identifying exactly what the demands of the event are and then what do you need to be able to do as an individual and a team to win the race.
"We then looked at what we had in our team and what we needed to develop before going out on the road, on long, arduous training camps and spending a long, long time working on that.
"It's the thorough process this team goes through and then it's about executing everything during these three weeks."
Seeing the hard work pay such rich dividends has been a special experience for Kerrison who first forged his reputation with Australian Swimming.
He admitted: "To get to Paris in this position is an incredible feeling for everyone.
"We've had objectives throughout this year and to think that we've achieved them all – from the early-season races like Algarve where we brought the team together, through Paris-Nice, Romandie, Bayern-Rundfahrt, the Dauphine and then the Tour.
"We've won every one of those races and stages within them so we've known all season that we were on track.
"But then to actually get to Paris and in the yellow jersey is incredible and so satisfying."
Incredible support
Asked what has made the team stand out from their rivals, he said: "We obviously have a very strong leader in Bradley, the best bike rider in the world right now. We also have an incredible support rider in Chris Froome but beyond those two the team is incredibly strong and they've really lifted each other over the course of the last year. The level to which those guys have risen this year is just fantastic.
"For example you've got a big guy like Christian Knees who has excelled in the high mountains. He comes in as a domestique, primarily to work on the flat, and he leads a reduced peloton of about 35 riders over the Tourmalet. That's what marks them out."
Inspired to get on your bike by Bradley Wiggins and Team Sky at the Tour de France? Then visit www.goskyride.com for rides for all ages and abilities.