Knees Fan Club launches
A Christian Knees fan club has been founded this month in his home town of Rheinbach.
Last Updated: 09/11/12 4:17pm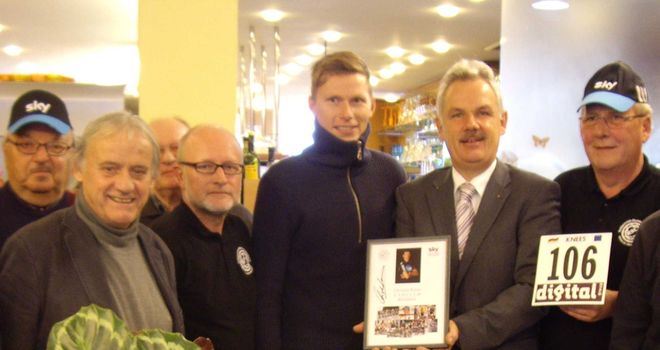 A Christian Knees fan club has been founded this month in his home town of Rheinbach.
The club was set up by Günter Frank, Heinz Radermacher and Johannes Bois after the trio enjoyed various trips across Europe to see their hero in action.
The club's roots can be traced back to 2010 when Knees won the German road race title. That achievement was heralded as one of his town's greatest sporting achievements and many locals - including members of Knees's first cycling club the RSC Rheinbach - made the trip to Neuwied in 2011 to cheer him on as he sought to defend his title.
Team Sky provided podium caps on that occasion, and such was the success of that particular foray that two more jaunts were organised in 2012.
The first of those came when the RSC Rheinbach headed over to Liege to see Knees begin his seventh consecutive Tour de France campaign, and before the season was out they'd also visited Valkenburg to watch him represent Germany at the World Championships.
With numbers swelling on each occasion, Frank, Radermacher and Bois made things official at the start of November and the fan club's inaugral meeting was held at the Marco Polo ice cream parlour in Rheinbach.
Knees's proud parents were both in attendance, as was the town's Mayor, Stefan Raetz, and President of the RSC Rheinbach, Josef Göttlicher.
The man himself also stopped by to mark the occasion, and demonstrated his appreciation by donating a signed race jersey and his starting numbers from this season's Tour de France.
He told us: "It's a massive honour to have my own fan club and I'm very proud.
"In the past when they've visited the races, it's always given me a big boost to know that they are there, and it's been great to be able to talk to them outside the bus.
"I'm looking forward to having them cheer me on again next season and even more happy that they will be there as my fan club."
Although the fan club is based in Rheinbach, they welcome members from all around the world, and if you would like to join, you should contact Josef Göttlicher at j.goettlicher@t-online.de