On the road with Rusty and Kay
Rusty and Kay Morris hit the road once again this season to maintain their place as two of Team Sky's most loyal supporters.
Last Updated: 21/12/12 11:47am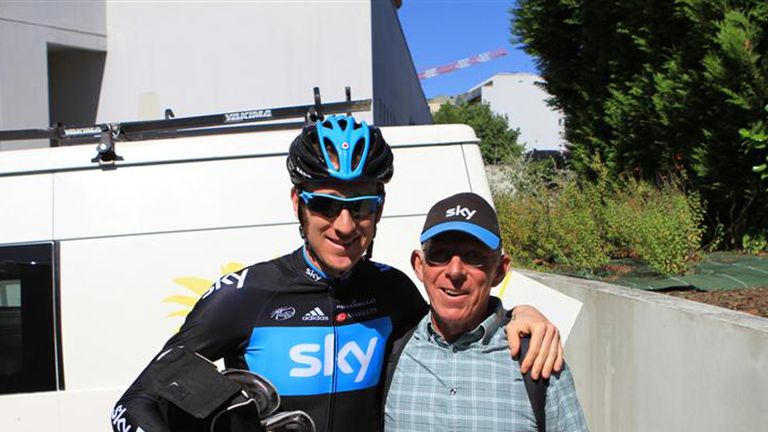 Rusty and Kay Morris hit the road once again this season to maintain their place as two of Team Sky's most passionate and loyal supporters.
The couple have clocked up thousands of miles following the team throughout Europe in their campervan in 2012, building relationships with Sky's riders and staff in the process. Here, they share their unique experiences of life on tour. Check out their accompanying photo gallery by clicking here.
Omloop Het Nieuwsblad
Our 2012 season supporting Team Sky started with Het Nieuwsblad, arriving on the Haaghoek on the Thursday prior to the race. Over the next couple of days, while waiting for race day, we were joined by many of our Belgian friends, resulting in a most sociable time, as we have now come to expect.
Race day began with us travelling to the start in Ghent, where we had a great time reacquainting ourselves with both Sky staff and riders. After the start, it was a quick exit back to the Haaghoek, where we were immediately pounced upon by a Belgian TV crew who persuaded Rusty to wear a microphone for the day and be filmed throughout.
The theme of the programme was to be the rivalry between British and Belgian supporters. In this instance, our Belgian friend Eddy, who is a big supporter of Tom Boonen. Just before the first lap passed by, we had a visit from Dario Cioni, who wanted to take some photos of the new Juan Antonio Flecha banner.
The race itself was typical Het Nieuwsblad and, as always, Juan Antonio was a major contributor to the race, eventually finishing third.
Paris-Nice
On the Thursday before the race, we drove to Dampierre, just south of Paris, and parked up in a car park that seemed the only place available. By the end of the weekend, this would be full of campers. On the Saturday morning, we went out on our bikes and rode the prologue course and were fortunate enough to see Team Sky out training.
After Tuesday's stage to Lac Vassiviere, we made our way down to the lakeside, where all the team buses were parked, and although we felt unable to get too close, we were still able to take a set of photos (thank goodness for zoom lenses!) for our gallery. While Bradley was busy doing TV interviews, bus driver Chris "Slarky" Slark shouted out to us and threw the podium bouquet to Kay - another nice gesture from the team!
Giro d'Italia
After heading home to recover from illness, we set off again to the continent with the intention of watching the final eight days of the Giro, arriving on May 17 at Cervenia - the finishing town of a mountain-top finish.
On race day, bad weather had not cleared up, which made putting the banners and flags up very difficult, but we were determined to show our support for Team Sky, especially among the vociferous Italians!
The race arrived but was very fragmented, with small groups all over the place. Rigoberto Urán and Sergio Henao were in the lead group and looking strong. While waiting for the next group, we heard Rusty's name being shouted out, but didn't know where the voice was coming from. Then, suddenly, another group of riders appeared from around the bend and there was Juan Antonio Flecha, waving out and laughing. He had spotted his banner on the opposite side of the road before coming into our sight.
Criterium du Dauphine
On the Tuesday of the race, we were able to talk to some riders and staff and take some photos for the Facebook gallery. One particular conversation that sticks in our minds was with Edvald Boasson Hagen, where we were reflecting with him, through Kay's most recent photo book, some of the places that he had advised us to visit before our trip to Norway last September.
We watched the start from the town square before heading off to find a place as near to the day's finish as possible. As Edvald rode past, we had a lovely wave and smile, which is typical of him.
We decided to miss Wednesday's stage, using the day to get a good position for Thursday's TT and also have a ride of the course ourselves. On Wednesday evening, Sean Yates and Servais Knaven stopped by the camper for a brief chat before recceing the rest of the course.
On Thursday, we awoke to bright sunshine and just managed to get the banners up before three Team Sky cars came along, with Sean shouting out "good morning" over the loudspeaker system to us. We then walked into town to watch the early riders off. There were plenty of people around the Sky bus as usual, but we managed to get a word with Bradley and ask him if he would sign the sash from the bouquet of flowers that Slarky had given Kay at Paris-Nice. He duly obliged and exchanged some good banter.
After Bradley had secured overall victory on the Sunday, there were many people around the bus, all waiting for him to arrive after completing his media obligations. We were approached by a French lady who was holding Bradley's podium bouquet, which he had thrown into the crowd. She was anxious to see him and express her thanks but wasn't sure what the procedure would be. Rusty said he would try to help her and, if successful, Kay could take some photos of her with Bradley.
When Bradley returned, he was immediately swamped by a TV crew and spectators all wanting autographs, but Rusty managed to grab his attention and explained about the French lady. Bradley couldn't have been nicer and seemed only too pleased to pose for a photo with her - it really made her day and another Sky fan was born.
Tour de Suisse
We joined the race on Thursday, June 14, on stage six and had plenty of acknowledgement from the team on both passages of the race. After the stage had finished, we rushed off to find somewhere for Friday's TT stage. In our haste we didn't notice that there were two towns called Gossau within 100 miles of each other and, of course, we put the wrong one into the sat-nav!
Tour de France
We arrived at Liege on Thursday, June 28, and, that evening, we set off on the scooter for the team presentation. We had a good position in front of the stage, where Kay was able to get some good photos and Rusty probably annoyed a few people waving his large Sky flag!
After all the teams had been presented, we headed over to the Team Sky bus, where we were able to chat with some of the riders and staff. Christian Knees, in particular, was in really good spirits, shaking our hands and posing for photos. Team Sky's Head of Operations, Carsten Jeppesen, was only too pleased to demonstrate some of the features of the new Jaguar to us, with Dave Brailsford posing for photos at the front.
On the Saturday, we walked into Liege for the prologue, but it was disappointing to find that the team buses were behind barriers and out of reach for the supporters, although this was understandable as there were huge crowds everywhere. Fran Millar came over from the Team Sky bus and had a brief chat, handing out stickers and Bradley was seen to be bowing and waving to us in his unique style!
We decided to skip the stages in the Brittany peninsular and headed for the Jura and the climb of Les Planches de Belles Filles. We were hoping to find a place on the steep climb up to the finish but to our amazement there were "no parking" signs everywhere. We eventually found a spot on a small climb about 15km before the finish - this turned out to be a real gem of a place and encapsulated the whole Tour adventure.
The owners of the land were Jean and Madeleine, both in their 80s, but full of life and enjoying the arrival of people and campers around them. Although neither spoke any English, Kay managed to communicate with them using her limited French, as we wanted to reserve a place by us for some very good Belgian friends and their grown-up family, who also happen to be good friends of Bernie Eisel. We had a great couple of days here going out on our bikes, barbecuing and, all the while, being supplied with fresh salad from Jean and Madeleine.
On stage 11, to La Toussuire, throughout the day we saw many Sky vehicles coming up the climb, some of which stopped to say hello, which we always think is a great acknowledgement of our support.
As expected, the stage was a major player in the Tour, with the peloton spread over a full 45 minutes and Bradley and Chris Froome in a small group with the rest of the main contenders. Most of the Sky riders who had done their work earlier on the climb were well down and when Richie Porte came up, he rode over specifically to us to ask how Bradley had finished.
Our next contact with the team was on the rest day at Pau on Tuesday, July 17. I had made arrangements through the website to have some time with Bradley to sign some Tour arrows that I had acquired and wanted to give to some of my cycling buddies back in the UK who don't get a chance to come to the Tour themselves.
We arrived at the team hotel, where there was frantic activity, with many spectators and media swarming around the team buses and trucks. We made ourselves known to Dario Cioni, who was to be our contact for the occasion. He ushered us inside the barrier and said that Bradley would be with us shortly.
When he arrived, he good-naturedly signed the arrows and I explained why I was asking for the signature. As the rest of the team were now appearing and getting ready for their training ride, Bradley went into the bus to put his shoes and helmet on. About ten minutes later, Dario emerged and told Kay to get her camera ready. We thought this was just because Bradley was coming out of the bus, which in fact he was, but holding one of his race leader's yellow jerseys, which he then presented to Rusty.
This is the first time Rusty has ever been speechless. Kay quickly took some photos before Bradley and the team departed for their training ride. Rusty slowly came out of his state of shock and then promptly tried to phone the world (all his friends and family) to tell them the news.
Shortly after this Dario came over and said that Sky News needed to do an interview with someone and, as all the riders had departed and would not return until after the TV live slot time, he asked us if we would oblige, which we duly did! I can honestly say this was the best day in Rusty's 53 years of following professional cycle racing - never would he have thought as a 12-year old schoolboy racer that one day he would be given the maillot jaune of the first Briton to win the Tour de France.
Although we would have loved to go to Paris, the logistics seemed too difficult for us this year so we reluctantly packed up that evening and headed for Calais, making sure we found somewhere to park up on Sunday afternoon so that we could watch all the final action on TV.
World Championships
The world championships is always one of our favourite events and, with more races than ever this year, it promised to be good. The first weekend of racing was taken up with the new events - women's and men's trade team TTTs, with Saturday designated as the training day.
After watching the women's teams in the morning, we decided that in the afternoon we would go off on the scooter, riding the course backwards in the hope of finding Team Sky out on their training ride.
We eventually found them about halfway into the course, so we stopped and took a few photos before jumping back onto the scooter to catch them up again. Kay sat on the back with her camera taking photos Graham Watson-style!
As usual, there were many Norwegian fans supporting Edvald, and we even met Edvald's father one evening while strolling around the town.
Once again, we have had a great year following Team Sky through various races, some new to us and some old favourites, and as always we have met loads of people on the way.