Brailsford and Wiggins knighted
Team Sky's Dave Brailsford and Bradley Wiggins are to be awarded Knighthoods as part of the New Year Honours List.
Last Updated: 09/01/13 10:37am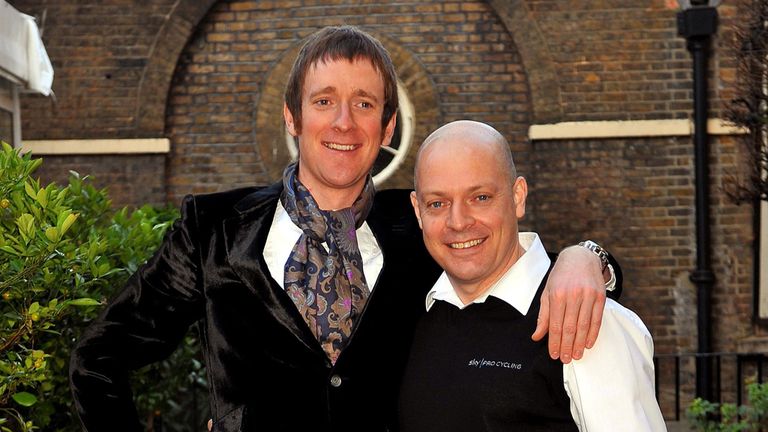 Team Sky Team Principal Dave Brailsford and rider Bradley Wiggins have seen an incredible year capped with the announcement that they are to be awarded Knighthoods.
With the profile of cycling at an all-time high, Brits Brailsford, 48, and Tour de France winner Wiggins, 32, were announced among the traditional New Year Honours List on Saturday for their services to sport in the United Kingdom.
2012 was the year that saw Brailsford inspire success on both the road and the track in the most significant 12 months for British cycling in the history of the sport.
The mastermind behind Team Sky alongside his role as Performance Director of British Cycling, Brailsford helped oversee in Wiggins the first ever British winner of the Tour in a momentous 1-2 finish with compatriot and team-mate Chris Froome.
Hours after success in Paris, a tireless Brailsford, along with yellow jersey winner Wiggins, headed back to the UK to prepare for the imminent home Olympic Games in London.
Despite the pressure of expectation Team GB delivered a stunning eight Gold medals in cycling, including the fourth Olympic success of Wiggins' illustrious career.
The rider from Kilburn tore around the London roads to take victory in the time trial event, capping a stunning double in a year which also saw him also crowned Sports Personality of the Year.
Incredible honour
With Britain the nation to beat at the elite level of cycling courtesy of a legacy built on performances at the last four summer Olympic Games, Brailsford said of his honour: "On the one hand you feel proud and honoured but on the other it feels quite humbling. I think more than anything else it's recognition for everything that has happened in cycling, not just for this year, but over a period of time and the development of the sport. I'm the lucky one that gets recognised.
"I'm just an orchestra conductor and I am only ever going to be as good as the people playing the instruments by making sure they are all coordinated. I am very reliant on being able to recruit and develop the best people in given areas and I think I have been very lucky in having some absolutely brilliant people who have worked with me. But more than anything it's bike riders that win races and gold medals and I have been incredibly lucky to have such a talented bunch of riders come through the system in the last few years and I think they are the ones that deserve the credit.
"After a year like this my ambitions are sky high and I'm still very hungry. I get up in the morning and think about how we can better and I've got a group of people around me who think all the time about continuous improvement. That is quite contagious and once that ball starts rolling it's very difficult to stop it."
Sir Wiggo
The pair's fortunes have been intrinsically linked down the years, with Wiggins claiming medals at each of the last four Olympics in addition to joining Brailsford's vision of Team Sky ahead of the 2010 season.
In a year which also saw wins at Paris-Nice, Tour de Romandie and the Criterium du Dauphine in addition to a famous Tour-Olympic double, Wiggins said: "It's an incredible honour and an incredible thing to have."
On the subject of his new title he admitted: "[Sir] is not something I would like to use in daily life because it would still sit uneasy with me. The only thing I have insisted on is that my wife and children call me Sir at home but other than that everyone is free to call me Bradley!
"The goal this year was to win the Tour de France and the Olympic Games and we did that. I think it's everything else that has happened since then, which have not been the biggest achievements but the most rewarding - things like Sports Personality and the Knighthood - because those things are out of your hands. So to be awarded those is humbling."