Hunt returns as Sports Director
Team Sky is happy to welcome Dan Hunt back into the performance team for 2013 in the role of Sports Director.
Last Updated: 15/01/13 3:59pm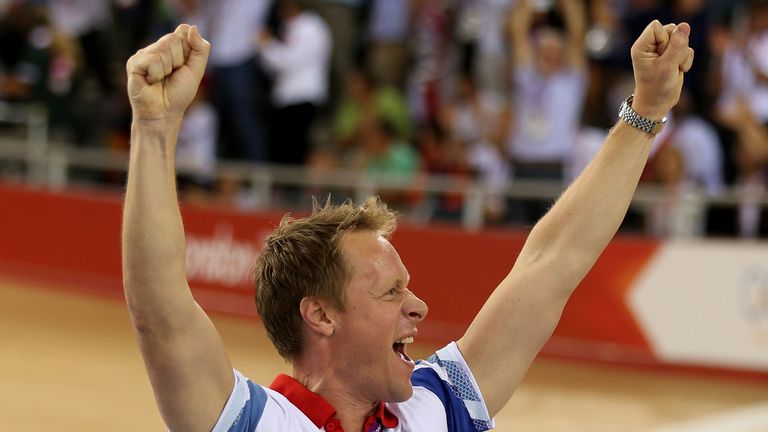 Team Sky is happy to welcome Dan Hunt back into the performance team for 2013 in the role of Sports Director.
The Brit was part of the team during its inaugural season in 2010, dovetailing his work on the road with his coaching position on the track within British Cycling.
Fresh from a momentous summer which saw him help guide the men's team pursuit quartet to a world record-breaking defence of their Olympic title in London, Hunt is now ready to reintegrate himself into road racing.
With Team Sky and British Cycling sharing a base at the National Cycling Centre in Manchester - as well as training camps and a common leader in Dave Brailsford - Hunt already has an intimate knowledge of the team and staff.
"We've walked the same corridors with the same people for three or four years now," said Hunt. "I know everyone on this team and I have a fantastic relationship with them all."
As for the job at hand, after a few years out of the team car, Hunt admits: "I want to learn the races and re-learn the job of a Sports Director. But maybe also bring different things to the table, because I'm not an ex-pro. I haven't ridden these races, so I've got a bit of homework to do.
Exciting challenge
"I don't think it gets any better than Olympic gold at a home Olympics from a coaching point of view. It's a great time to bow out and start a new challenge and I'm really excited about the project."
That high point was a particularly special one for the former sports scientist at the Welsh National Institute of Sport, and marked the latest step in an impressive rise through the coaching ranks.
After starting out working alongside Welsh female cyclist Nicole Cooke, Hunt recalls: "Dave [Brailsford] rang me up in 2005 and asked me if I wanted to coach the women's programme, which I took on. It was a programme which was basically failing at the time and my job was to go in and turn it around.
"The programme ultimately went on to Beijing and won two gold and two silver medals, with Wendy Houvenaghel and Rebecca Romero on the track and Emma Pooley and Nicole Cooke on the road."
Directly coaching Houvenaghel, Romero and the track athletes in addition to overseeing the programme for Cooke, Hunt continued coaching the women into 2009 when Team Sky first came to his attention.
"I started working with the women and the men in 2009 through to the early part of 2010, working and coaching both squads through to March. By this point Team Sky was up and running. We'd had the November camp and the team was racing. I was involved right from the start as a Race Coach, combining that role with my role in GB cycling.
Focus switch
"In 2010 I was asked to DS on the road. I ended up doing quite a lot – around 80 days. I didn't start racing until Tour de Picardie in May so it was a lot of racing, mainly as second DS. I did a heavy summer road programme and then went straight back onto the track. 2010 was the start of Olympic qualification and we had to start scoring points, starting at the European Champs."
With the Olympics looming large Hunt stepped away to focus on the track, albeit never too far away from the team and its riders.
"With the men's endurance programme on the track I was liaising quite heavily with Team Sky still because three of the riders on the team pursuit programme – Ben Swift, Geraint Thomas and Pete Kennaugh – were Team Sky riders. So it was important to make sure the race programme fitted so we knew what they were doing.
"We had great relations with the team. They one hundred per cent supported the project, even though at times it left them a little bit short in the races. Obviously Geraint wasn't able to ride Flanders and Roubaix. Then after the Olympics was always going to be a difficult period for those that had been involved in terms of the transition back to the road."
Back on the road
Despite success on the track Hunt admits it was always the plan to return to the team car. He explained: "Having done a bit of DSing in 2010 it was actually quite hard to go back to the Olympics, particularly two years out from the Games. But I'm really glad I did as I wouldn't want to have missed out on the experiences that I've had. Equally I don't want to do another four-year cycle as Olympic coach - I want to move into DSing.
"I need to expose myself to as much racing as possible to maximise my learning over the first year. I want to be good at this. I want to be a good DS and it's going to take time to get there."
Despite not racing in the pro ranks, Hunt, who will start his season at the Mallorca Challenge, is confident he can be another example of the team bringing new thinking and expertise into the sport. "I think you have to look outside of your own world. Otherwise the team surrounds itself with people who act, think and believe in similar things. We have a really nice mix in the coaching team and together we've got all the skills. As long as we keep on operating as a team I think we'll be fine.
"We're young, we're dynamic and we learn quickly. We're keen and we don't tire easily."