Rapha launch Team Sky range
Team Sky's official clothing supplier Rapha has unveiled the full range of products created in connection with the team for 2013.
Last Updated: 17/01/13 1:08pm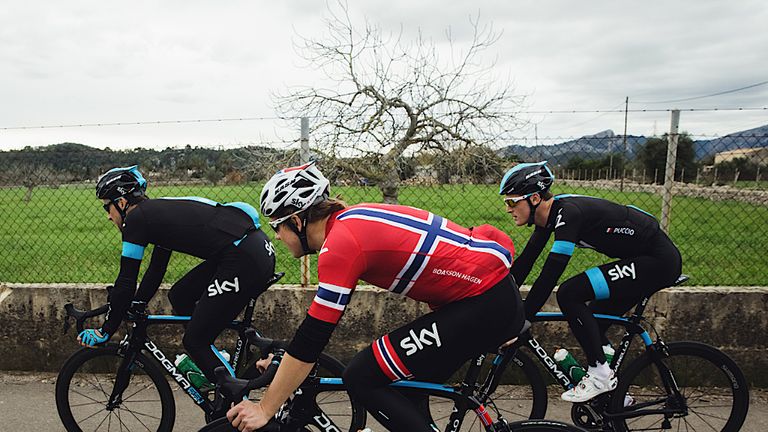 Team Sky's official clothing supplier Rapha has unveiled the full range of products created in connection with the team for 2013.
This Spring/Summer collection from Rapha, in the first year of a four-year partnership with Sky Pro Cycling, spans from professional-level performance to replica products and includes City Riding, supporter wear and accessories.
Creating a total of 60 new Team Sky products for 2013, the Rapha offering will allow riders and supporters of all levels to show their favour for Team Sky, the number one team in the world in 2012:
Pro-Team: At the highest level, riders will be able to wear exactly what the Team Sky riders will wear to race and train in 2013, keeping the same design, fit and performance from the peloton. The Pro-Team offer includes a mix of jerseys, bibs, jackets, merino, and accessories.
Replica: For the rider wanting the look but who doesn't require the complete pro-performance or price tag. The Replica offer includes women's, kid's and "Wiggo" emblazoned jerseys.
City Wear & Supporter: Created to dress the riders and staff of Team Sky, the offering for supporters ranges from new gingham check colours of the Rapha Long Sleeve Shirt, Rapha Jeans, T-shirts, and supporters scarves and flags. A stand-out new product in this offer is the 'Supporters Jersey', a top that has the look of the team but with a cut meant to pair with jeans for off-the-bike.
To take a look at some imagery featuring the new kit at Team Sky's Mallorca training camp click here.
Improving performance
"The opportunity to work with the riders and staff of Team Sky has always been about improving how they perform, look and feel as a 'Team Sky rider 24-hours a day'. We are excited about the refinements we have brought to the on-bike clothing and are very glad to be able to redefine their look off the bike in a way more commensurate with the stature of these riders and the team," said Simon Mottram, Founder and CEO of Rapha.
"This has been a massive undertaking for everyone here at Rapha to get this launch today. To see the full breadth of the offer become a reality for everyone at Team Sky and for our customers is amazing."
The complete collection comes available mid-February online at Rapha.cc and at Rapha Cycle Club stores in London, San Francisco, and Osaka. Key supporter products will be sold at key European races and events via a mobile Rapha Cycle Club. A selection of the offering will be sold through the current Rapha stockists around the globe (full list: rapha.cc/retail-partners).
Riders and fans can buy the complete Rapha Team Sky collection right here.