'Hardest Sport In The World'
Team Sky's Sir Bradley Wiggins plays a starring role in a new promo for Sky Sports' Super League coverage.
Last Updated: 25/01/13 2:26pm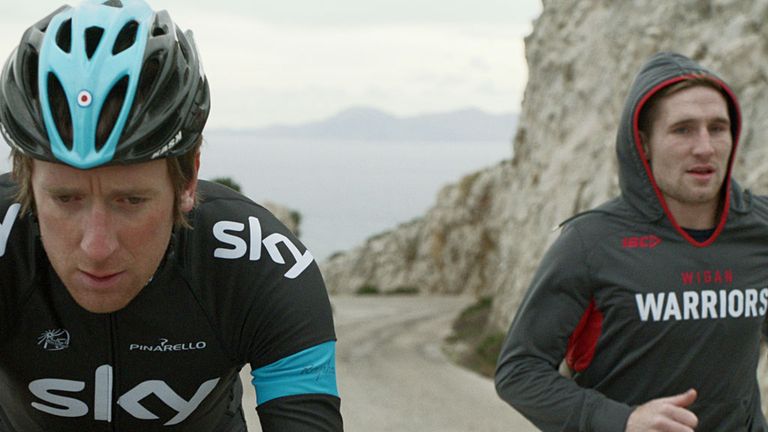 Sky Sports has launched its coverage of Super League XVIII with a new 'Hardest Sport In The World' promo featuring Wigan Warriors' Sam Tomkins and Tour de France winner Sir Bradley Wiggins.
The promo sees rugby league fan Wiggins climbing winding Mallorcan roads on his bike as an unidentified hooded athlete runs through the surrounding forests up the mountain. Wigan player Tomkins then emerges onto the road as Wiggins rounds the final bend and the pair continue up the hill side by side.
Wiggins has previously spoken of his respect for rugby league players on a Boots 'n' All special on Sky Sports, recalling: "In the late 90s I moved up north to train closer to Manchester at the velodrome, met my wife - she's from Wigan - and the first thing her father did was take me to a Wigan match. From there really I fell in love with the game.
"The thing that struck me the most was just how hard and how physical it was. Everyone knows it is a physical game but I had only seen union up to that point, but league... just how fast it was, how athletic the players were. It was a proper sport to the point where you sit in the stands, you get to hear the tackles. From a sport like cycling we think it's dangerous at times with the crashes, but it was no comparison really and it was inspiring, sitting there watching."
The promo aired for the first time on Thursday 24 January on Sky Sports channels ahead of the first live Super League match of the season Leeds v Hull FC on Friday 1 February, Sky Sports 1 HD.