Wiggins feeling stronger than ever
Despite a busy winter Sir Bradley Wiggins feels his pre-season form is ahead of where it was at this point last year.
Last Updated: 29/01/13 9:14pm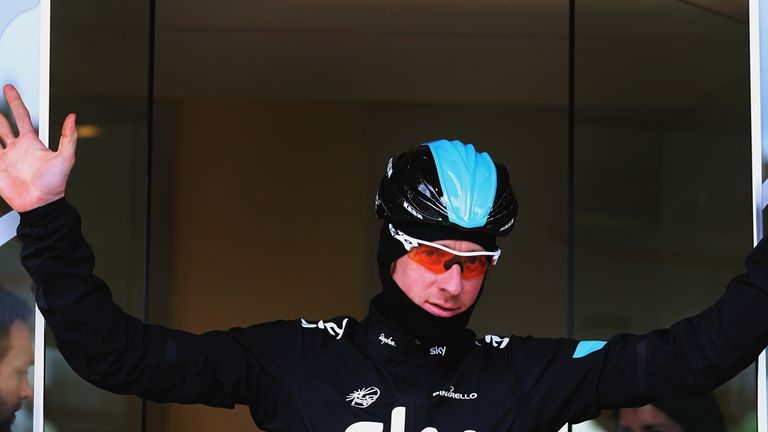 Despite a hectic off-season Sir Bradley Wiggins feels his form is ahead of where it was at this point last year as the season approaches.
Wiggins' early race programme sees him kick off his year in the familiar surroundings of Challenge Mallorca before heading off to Oman as he builds towards objectives later in the season.
In spite of a training accident in November and subsequent injuries, not to mention a host of appearances as his profile continues to grow, Wiggins has been able to build an impressive training base of form – to the point where he now feels he has an edge on his 2012 preparations.
"We are ahead of where we were this time last year and we're all on track for the goals ahead," he said at Team Sky's media day in Mallorca.
"I've been out here on and off since the middle of November so it is like a second home, the training base, for me really."
Giro aim
Training sees Wiggins building towards one of his big stated goals for 2013 – the Giro d'Italia in May – followed by a return to the Tour de France with Chris Froome heading into July.
The 32-year-old concedes there is always a degree of the unknown that comes with competing in back-to-back Grand Tours, but is ready for the challenge ahead in a bid to add the mythical Italian race to his palmares.
He explained: "The Tour of Italy has always been something that I have always wanted to go back to, but it has never fitted in. [But] the opportunity is there now.
"My focus straight after the Giro finishes is to recover, like we did with the Olympics, go straight into a camp environment, and build to the Tour to be as good as I can be at the Tour.
"Obviously, there is an element of unknown with the Giro and how we are going to back up to the Tour.
"The likelihood is we will get to the Tour and Chris will be the leader if all goes to plan for him, and I will be there in a supporting role, as he was for me last year."
Duel leaders
With the team in the luxurious position of having at least two riders capable of winning a Grand Tour, Wiggins explains that healthy competition is a good thing for he, Froome and the team.
"We're both very competitive people, we both want to win bike races and we're both in the same team," he continued.
"We're both very professional people as well and we have an incredible respect for the team we are in and the other people that sacrifice their races for us.
"We push each other, really, as we saw with Chris Hoy and Jason Kenny on the sprint squad.
"We keep each other on our toes and pushing for that leadership is quite a nice thing to have within a team, that competitiveness that goes on."