Froome remains in the hunt
Chris Froome limited his losses on the third stage of the Tour of Oman after Peter Sagan powered to a second successive victory.
By Nick Howes
Last Updated: 14/02/13 5:09pm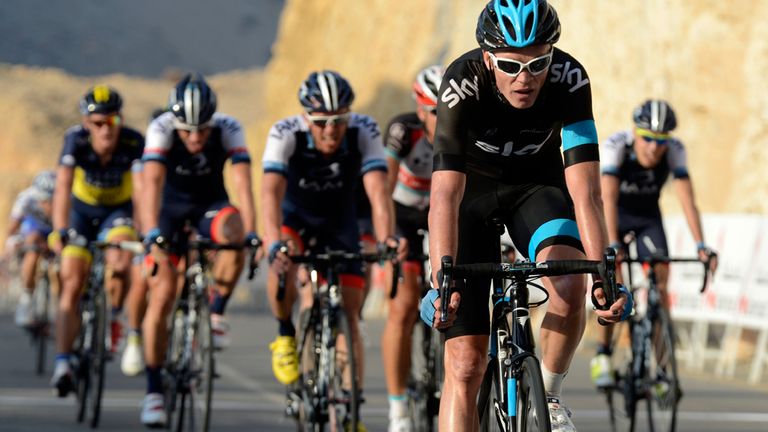 Chris Froome limited his losses on the third stage of the Tour of Oman after Peter Sagan had powered to a second successive victory.
Froome was guided into the perfect position once again before a decisive short, sharp rise in the final kilometre, but could only look on as his punchier rivals surged up the ascent and battled it out for the stage win.
Sagan was again the strongest performer, and another well-timed attack in the closing stages saw him cross the line with a second to spare ahead of Greg Van Avermaet (BMC) and Tony Gallopin (RadioShack). Froome meanwhile, finished the day just nine seconds off the pace in 13th position.
Those results meant Froome dropped to 13th place overall, 36 seconds back on Sagan, who extended his lead over Gallopin to 16 seconds.
With Thursday's summit finish up Green Mountain now on the horizon, Sports Director Nicolas Portal believes Froome is still well positioned to challenge for top honours, and was encouraged by the team's performance once again on the Arabian Gulf.
He told us: "It was a very lumpy last 18km so I positioned everybody towards the front to keep Froomey out of trouble. It was a very wide road but we controlled things brilliantly as a team and Froomey was well positioned heading into that last climb.
"Cannondale set a brutal pace up there though and it was more like an uphill sprint that anything else. Froomey wasn't able to follow the likes of Sagan, Gilbert and Bouhanni so he maintained a steady tempo and then emptied the tank on the run in to the line.
"That was the plan and we executed it well. It's never nice to drop out of the top 10 but it's tomorrow's stage which is going to prove pivotal and Froomey is in a great position heading into it."
Early attack
The action had begun 190km away at the Nakhal Fort, and for the third day in succession, Bobby Traksel brought the stage to life with his early attack. He was joined in the breakaway by Yusuke Hatanaka (Japan), Christian Delle Stelle (Bardiani Valvole), and Champion System team-mate Chan-Jae Jang, and the quartet's lead was allowed to grow to over nine minutes before Cannondale stepped up the chase.
Once that had happened, the foursome's advantage was gradually reduced and had been all-but halved as they hit the day's sole categorised climb.
Traksel fell off the pace as Delle Stelle set a solid tempo on the Bousher Alamkrat ascent, and after a brisk plummet down the other side, Jang would also sit up after suffering the onset of cramp.
Delle Stelle and Hantanaka pressed on doggedly but their days were numbered inside the last 15km. By then, Team Sky were at the head of affairs with Sir Bradley Wiggins, Peter Kennaugh and Vasil Kiryienka each working hard, and after Froome had been unleashed on the climb it was Sagan who prospered with another stunning late move.
The Slovak opened up an insurmountable gap as he powered towards the finish, and pulled out another characteristic celebration before wrapping up his second success in 24 hours.
All to play for
Despite seeing Froome drop seven places in the overall standings, Portal was keen to stress the positives and insisted the race is still wide open.
He added: "Tomorrow's stage is the one that is going to decide the race, not today. Green Mountain is 6km long and maintains an average gradient of between 10-11%. That's going to suit Froomey and the plan will be to get him into the best possible position leading into the climb and before pacing him up it to the best of our ability.
"The team are in really good form so we're looking forward to a big day, but Sagan is such a strong rider and the likes of [Alberto] Contador and [Vincenzo] Nibali are all up there as well, so we're not going to have it all our own way. It's going to be another exciting day."
Froome hails teamwork
Froome echoed those sentiments when we caught up with him at the hotel, and he was keen to praise the efforts of his team-mates after an explosive climax to the day.
He said: "It was a long day in the saddle today – 190km in very hot conditions. It passed relatively slowly until the final hour when it all kicked off and that's when the team did a great job in looking after me.
"Like Nico said, I didn't have the legs to follow the likes of Sagan on that final climb, and I lost a few seconds as a result, but today was a big display of strength from the team and I'm grateful for what they did for me.
"This is my first race of the season and I'm happy where my form is at the moment. I'm in a lot better position than I was last year, feeling good, and ready for tomorrow's decisive stage."