Boswell finding his feet
With two races under his belt, Ian Boswell is adjusting well to life in the pro ranks at Team Sky.
By Richard Simpson
Last Updated: 23/02/13 6:19pm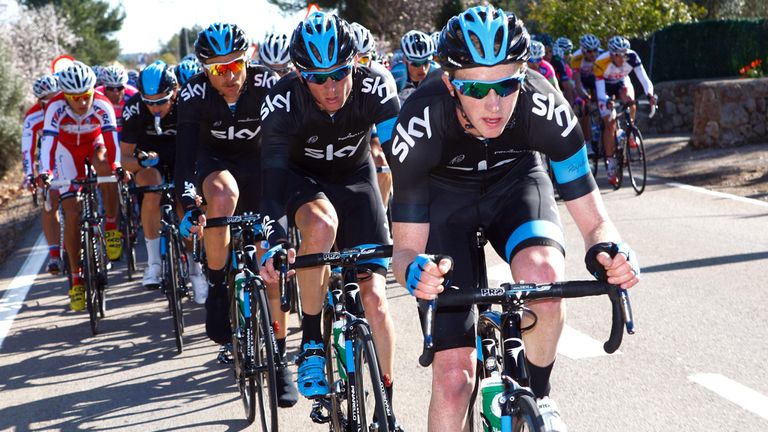 With two races under his belt, Ian Boswell is adjusting well to life in the pro ranks at Team Sky.
The 22-year-old American tackled three days of the recent Challenge Mallorca and has just completed the first stage race of his neo-pro campaign at the Volta ao Algarve.
Since joining up with the team for the first time in October last year, Boswell has been on a whirlwind ride that has seen a move from his home in Bend, Oregon to the Mediterranean coast and a new European base in Nice.
Despite the two tough stints at the team's training camp in Mallorca thrown in for good measure, Boswell has taken it all in his stride, admitting: "It's really been amazing.
"Starting off as a neo-pro with a team this big is quite a big jump but it's been really smooth. It's been awesome to get into the team and see how it operates."
New horizons
Arriving in Europe alongside his former development team-mate Joe Dombrowski, Boswell still had 25 new riders to get to know, along with all the team's staff.
"Everyone is great," said Boswell. "We have a wide range of ages and nationalities on this team. There's different styles of rider but everyone comes together and gets on really well.
"There are people on the team I've already made good friends with like [Jonathan] Tiernan-Locke, Josh Edmondson and Pete [Kennaugh]. The foreign riders like David Lopez are also really friendly and always willing to help young guys like myself."
With plenty to take in - including a stack of new team kit - Boswell is slowly adjusting to life in Europe. "I really like the Rapha stuff," he explained, "Once I got all the new kit I was like 'wow, where am I going to put all this stuff in my place in Nice?'
"Speaking of Nice, it's going to be a great place to live, but over the winter I actually spent more time in Mallorca at the training camp than I did at home.
"I've been getting into the new lifestyle, getting acquainted with the French culture and figuring out the roads - seeing what life is like there."
After some eye-catching performances in the under-23 ranks, most notably at the Tour of Utah and Tour de l'Avenir, Boswell is content to feel is way into the pro scene gradually, with the emphasis very much on learning the ropes in year one.
"As far as personal goals for this season in terms of races, I've not set anything too ambitious results-wise. The biggest thing this year is to learn as much as I can from the older riders, get a feel for how the team operates and works, and to be as helpful as I can to the riders who are here to win races. I'll be there to give it my best."
Making improvements
With Boswell able to continue his development alongside some of the best coaches in the sport, the young American is excited about the potential for improvements in his all-round game.
"There's a lot of things that the coaches see that I wouldn't normally see as a rider," he admitted. "Working on the time trialling is something that I obviously need to improve on so I've been working with the coaches – mainly (Performance Coach) Shaun [Stephens] – just to try and work on that over the next couple of years. In the meantime I want to continue improving my climbing and my ability to ride as a domestique in this first year – being steady on the climbs and smooth in and out of the saddle."
And what about the step up to WorldTour level?
"I think everything is different - the volume of the races for one. The amount of races I'll be doing this season is probably double what I did last year. There's also the distance of the races and the intensity of them. Everything really goes up a level across the board so it's more difficult.
"There's also the pressure on the team to perform. In a development team you just go to a race to do the best you can. This is the best team in the world and we show up at every race to win."