Pate ready for next challenge
With Paris-Nice looming on the horizon, Danny Pate is ready to once again give his all for Team Sky.
Last Updated: 01/03/13 4:43pm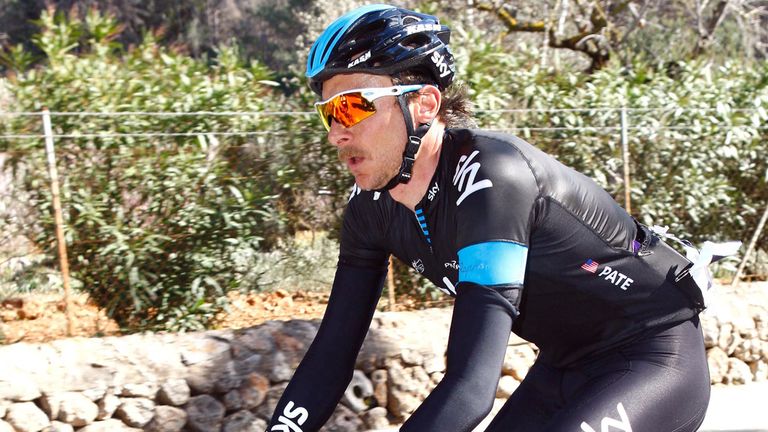 With Paris-Nice looming on the horizon, Danny Pate is ready to once again give his all for Team Sky.
The American is embarking on his second season in the Sky set-up and has spent the winter preparing to pick up where he left off following a successful 2012 campaign.
An integral part of Team Sky's stage race roster, the 33-year-old cut a powerful and assured presence at the head of the peloton as part of winning performances at Paris-Nice, Tour de Romandie and the Criterium du Dauphine.
With one year with the team under his belt, the American admits it is easier to return to action in 2013 knowing exactly what to expect.
"It's always easier when you come back to what you know," he said. "It's a lot different to last year in that regard. You never know what to expect when you change teams. It's easier for me now as I know what is expected of me and how the team works.
"Arriving back at the training camp this year was a bit more relaxed. You still get through the same amount of workload but mentally it's easier. I like it here a lot. I find that, even though things are rigid in terms of schedule, it makes things work better. Certain things happen more smoothly and it doesn't feel rigid when you're amongst it."
Early-season targets
Pate kicked off his season down the road from the team's training camp at Challenge Mallorca before heading over to the Volta ao Algarve.
After battling through a stage three crash in Portugal to finish the race he is now preparing for an exclusively WorldTour March programme, taking in Paris-Nice and Volta a Catalunya.
When it comes to his form a laid back Pate admits: "I'm not really an early season type of guy.
"I felt good at the training camp to begin the year. I'm healthy and I've been riding well. It's not that the first few races of the year weren't important, but they aren't as important as Paris-Nice. I think I'm on track to be in good shape there which is what I'm the most excited about."
Pate will be joined on the start line in Saint-Germain-en-Laye surrounded by a number of new faces. Despite Team Sky's exemplary record in stage races in 2012, he believes the new-look roster strengthens the team's hand further.
"Every team has its change-over," he reasons. "We lost a couple of good riders coming into this year but I think we've more than gained that back. We've made some really good additions and I think you'll see that through the year. It's exciting to see what some of these young guys can do over the next few years.
Aims
With Paris-Nice and Catalunya (a race Team Sky missed out on last season) on the immediate agenda, Pate is also looking further ahead, specifically to the month of May for what he hopes will be a third crack at the Giro d'Italia.
"I'm trying to be a part of the Giro team first and foremost," he confirmed. "The races that build up to the Giro are important and it would be great to be a part of all that.
"Also for me personally I really want to do the Tour of Colorado (USA Pro Challenge). That would be a home race for me and that's one of the things I'm potentially looking forward to the most."