Wiggins happy as form builds
Sir Bradley Wiggins is happy with his progress following the Volta a Catalunya as the Giro d'Italia draws closer.
Last Updated: 31/03/13 4:35pm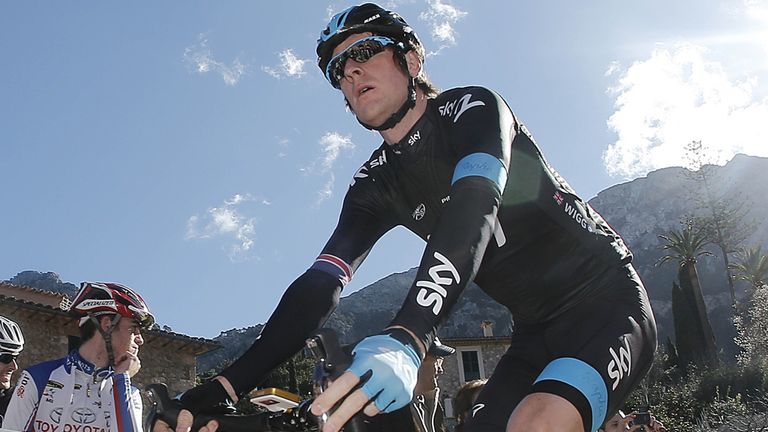 Sir Bradley Wiggins is happy with his form following the Volta a Catalunya as his target of the Giro d'Italia draws closer.
The Brit claimed fifth overall on his return to racing action in the south of Spain, hitting out a number of times during the week-long stage race to test his form.
Wiggins has switched objectives for 2013 following a wildly successful season last year, opting for a different build up ahead of the first Grand Tour of the season in May.
"When I look back at what I've done since January – I've done a lot of work. More work than last year," said the Tour de France winner.
"I really enjoy training and I'm pleased with the level I've got back to. There were times when I thought maybe I'd never get back to that level. So this last week's been really good."
Testing the legs
A surprise first stage attack on the run into Calella signalled Wiggins' intentions in Catalunya and showed a rider itching to get back into action.
"It's been a hard week but that's a good sign I think more than anything," he admitted. "My last race was Oman and I didn't really get a lot out of it because I was quite tired. So it's been a good little test really because it's not easy with the summit finishes."
Those summit finishes – on stage three up to Vallter 2000 and to Port Ainé a day later – saw the 32-year-old mix it up with likely Giro rivals Joaquim Rodriguez (Katusha) and Ryder Hesjedal (Garmin-Sharp).
Not opting to immediately defend the maillot jaune at the Tour has seen Wiggins repeatedly asked about his objectives.
"My goal was always to win the Tour. It was never to win three Tours," he explained. "So when I won the first Tour my life changed considerably. There was a lot to come to terms with and it's only since January that I've got back to racing and training.
New challenges
"There'd been such a build-up for three or four years since I joined Sky to win the Tour. Once I'd done it I was a case of 'what do I do now?' I'd achieved everything that I'd wanted to achieve. It's other things like that Giro that really interest me. But not just the Giro – trying to do a good Giro and then the Tour after it is appealing as well because it's a new challenge.
"The plan is still to do Giro-Tour and managing that fatigue in between so we're still good at the Tour. And that's the challenge. The same as the Olympics and the Tour was last year and it's that same sort of process."
After kicking off the year in Mallorca, seven stages in Spain and six at the Tour of Oman back in February have allowed Wiggins to ride alongside a number of new faces in Team Sky, with Catalunya allowing those riders to see what Wiggins looks for as a team leader.
"It's been really good getting to know the new guys on the team. Dario [Cataldo] speaks really good English and David [López] too so that always helps. The new guys have fitted in really well from the start of the season into the way the team does things – the training and the way we race. They've already been a big part of the team's success this year.
"I think they get a sense [of what I look for as a leader] as we go along. This was the first race I've done in that leader's role with those guys."
Hard yards
The work doesn't stop for Wiggins who will return to a training programme which has been ramped up once again compared to last season.
"Every year there's a little bit more because you learn from the previous year. This year's been harder because the stuff we did last year worked, so we've done more of that and maybe less of some of the stuff that didn't work. It's a continual process.
"The training we do now I never imagined we'd be doing three years ago. It just steps up each year, always trying to improve because we've never stopped and said 'okay this works so we'll do the same again'. It's always to improve and be better.
"This year we've been working more on the explosive climbing and things like that because the racing is going that way more. The Giro climbs are more that way, and on Vallter a few days ago the first signs were that I still had good legs to attack. So it seems to be working."