Wiggins ready for Giro test
With the Giro d'Italia looming large Sir Bradley Wiggins is all set to mount his challenge on the prestigious Grand Tour.
Last Updated: 03/05/13 1:54pm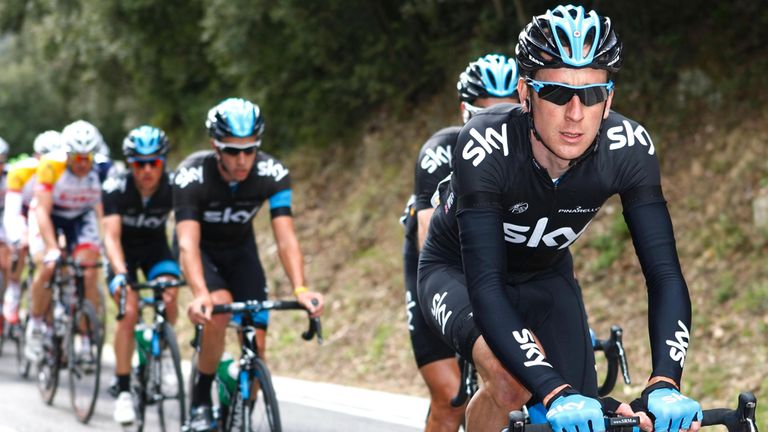 With the Giro d'Italia looming large, Sir Bradley Wiggins is all set to mount his challenge on the first Grand Tour of the season.
The Brit last rode the Italian race in Team Sky colours in 2010, immediately taking the lead following the time trial in Amsterdam but quickly losing it as bad luck struck the next day.
Fast-forward to 2013 and Wiggins arrives in Naples as the reigning Tour de France winner and looking to write his name further into the history books.
Despite a vastly differing build-up to the three-week event with racing in Mallorca, the Tour of Oman, Volta a Catalunya and Giro del Trentino, Wiggins believes he is beginning the race ready to compete at the sharp end.
"The lead-up has been a bit different to last year as obviously I don't have the wins under my belt," he admitted. "I've had to sacrifice that a little bit in order to try and be better for the Giro.
"That's a bigger challenge and I've come out of my comfort zone a bit and come to races I normally wouldn't choose to ride. Places like Catalunya, Oman and Trentino – all without time trials – so there isn't that to rely on. But for the bigger picture and what we're trying to do at the Giro I think we're on track.
"I've been training differently this season. It's been a bit more intense and all crammed into a short space of time. It's been pretty non-stop since the first of January. But it's been good and we're pretty much there now. It's quite exciting and I'm looking forward to the Giro."
Everything in place
Despite the pressures of trying to capture the maglia rosa, Wiggins feels in a good place, revealing on the upcoming Team Sky podcast: "I feel quite relaxed heading into it. After Trentino there were a few little bits left to do and we visited a couple of the time trials and now we're into the final week. It's all gone pretty well.
"You always get people who think they know everything who say 'he hasn't done this, he hasn't done that.' 'He hasn't won a time trial this year.' But at the end of the day we're just concentrating on what we're doing and hopefully when we're all in Brescia at the end of May we'll all be smiling and drinking champagne."
Despite a mechanical issue on the final climb in Trentino forcing Wiggins to settle for fifth overall, one big positive the team took from the Italian build-up race was an impressive win in the team time trial.
On what a win like that does, Wiggins added: "It's really good for the guys and good for the morale of the team. It shows that as a team we're pretty strong. With there being a team time trial in the Giro as well it's always nice to win something going into that. All along it was always about not losing any time or limiting the time loss in that stage, but now it looks like we could potentially look to gain time on some people.
"It's peanuts really in terms of time but you only have to win the Giro by one second. It may be decisive after three weeks."
Grand Tour challenge
With 21 tough stages stretching out between 4-26 May, Wiggins refuses to get overawed by the route, admitting: "It's not something that I really study. I try not to look at it all in one go - I try to let [Head of Performance] Tim [Kerrison] do that. He, Dario [Cioni] and [Sports Director] Marcus Ljungqvist have gone away to look at the stages and recce it all. They just drip the information into me as we get closer and pick out places we should go and look at. That helps me to take the race one day at a time without looking too far ahead. It's just my way of handling it.
"I tend not to look at the routes. They are what they are. When a road goes uphill you could be anywhere in the world. Uphill is uphill, on tarmac. No matter the name of the climb. It's always hard."
One thing Wiggins feels is unique to the Giro is the atmosphere and the passion surrounding the race.
"It's a lot different to the Tour in so many ways. It tends to be much more about the sport in Italy. People just love cycling. It's a lot more relaxed at the start every day and people come out to see the riders. I've always enjoyed being at the Giro. It's a nice race.
"Alongside the Tour de France and Paris-Roubaix, the Giro d'Italia is one of the biggest bike races in the world and one I'd love to win. I've watched the Giro since I was a kid and have seen my idols win it, which makes it even more special. It has always been a race that I've wanted to ride well in and I just can't wait to get started.
"I believe the Giro team this year is just as strong as the Tour de France team last year and the results prove that everyone is ready to go."
You can hear the full interview with Sir Bradley Wiggins in the first part of Team Sky's Giro d'Italia podcast series – available from Wednesday 1 May.