Pate details Giro challenges
Ahead of the Giro d'Italia Danny Pate takes us through some of the challenges around Grand Tour racing.
Last Updated: 04/05/13 7:04pm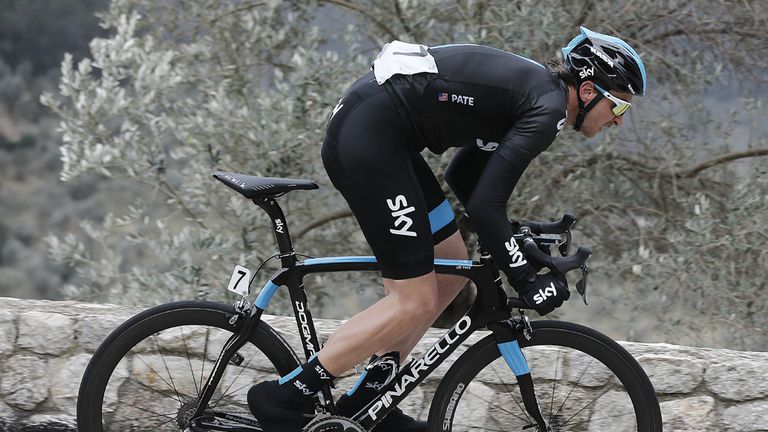 One of the most experienced riders on Team Sky, Danny Pate is no stranger to the daily routine that comes with every Grand Tour.
With the longest non-Grand Tour stage races during the season weighing in at around eight days - racing for 21, over a period of three weeks, throws up a unique set of challenges.
Fatigue must always be overcome, as must the constant battle to get back on the bike day after day in all conditions.
The weather can often throw up a few surprises in May but according to Pate, come rain or shine, the Giro is always memorable.
"I have done the Giro twice, so this year will be my third time," he told the Team Sky podcast. "The weather can sometimes provide some stand-out memories.
"In 2008, we had about three days where there wasn't at least 20 minutes of rain. It rained on us so much. It was pretty crazy.
"The weather adds a whole new element to the race. Usually at the Tour it is pretty decent weather. Even if it is raining it's not that bad. Sometimes at the Giro it can be a lot colder.
"It can have a big impact on the race. I have done some really cold stages there and I remember those ones in particular."
Recovery
The travelling circus of a Grand Tour means a lot of time spent tackling transfers, with precious little time where any member of the team can truly 'switch off'.
"Sometimes it feels like we don't get a lot of time to relax," the American admitted. "A lot of the time there's a long process after the stage that a lot of people don't think about. There are a lot of things we have to get done, plus there's driving from the finish to the next hotel. A lot of time the next stage starts in a different town to where the last one ended.
"By that time, it is getting later and when we get to the hotel, we have a massage and then dinner. That sounds relaxing but a massage can sometimes be pretty painful!"
"Dinner can be good. It is usually the highlight of the evening. That's one of the most relaxing things."
Home comforts
One way Team Sky has looked to keep things constant across a whirlwind stage race is to bring in specially designed bedding to ensure a good night's sleep.
A highly-publicised 'marginal gain', it's an idea that really pays dividends according to Pate, who reasons: "It's nice to have the same bedding. It's nice to have the same everything, if you can provide it. Our team does a good job of doing that with the consistency.
"Sometimes, when you are travelling so much and doing the stages, you stay in a different hotel every night and sometimes it is nice to have the same bed.
"We don't stay at the Four Seasons every night. Sometimes we are not that lucky and we stay at hotels that are older, so it is nice to have our own beds. Sometimes it is not necessary, but it is nice to have it when we need it.
"That goes along with a lot of things. The team has a chef too and they try to make as many things constantly the same as we are used to, so there are not many big fluctuations in anything really.
"The team steps in and they provide a certain level. They expect a certain level of us and they give us a certain level to be able to perform. It's one of those extra nice things they provide to keep things smooth and running well."
You can hear the full interview with Danny Pate in the next part of Team Sky's Giro d'Italia podcast series. Episode one available HERE.