Shimano and Team Sky: Believe
Shimano have set about trying to inspire the next generation with the help of Team Sky.
Last Updated: 14/05/13 12:05pm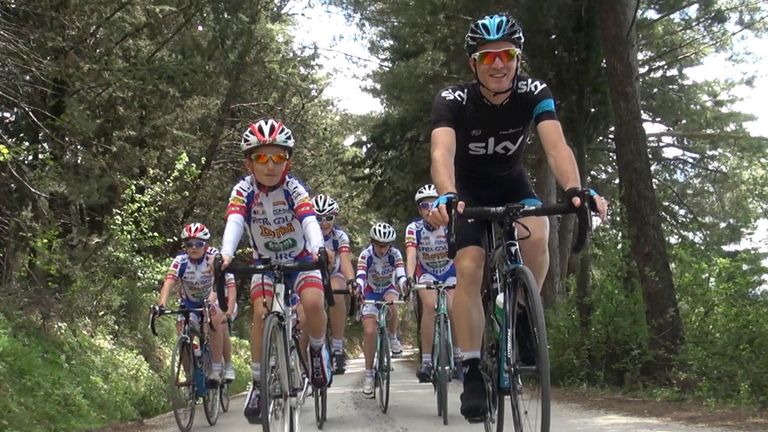 Shimano have set about trying to inspire the next generation of young cyclists with the help of Team Sky.
As part of team supplier Shimano's 'Believe' campaign, three Team Sky riders – Edvald Boasson Hagen, Salvatore Puccio and Ian Stannard – went back to where it all started for them as cyclists and visited their junior cycling clubs.
The riders took time out to ride alongside the young members and answered their questions about cycling and life as a professional in 2013.
Across three countries Team Sky riders paid a visit to Lillehammer Cykleklubb (Norway), U.C. Petrignano (Italy) and Team Milton Keynes (United Kingdom). Shimano were on hand to capture the results.
Edvald Boasson Hagen – Lillehammer Cykleklubb
The Norwegian said: "It was nice to see all the kids in my home town club in Lillehammer, and to get to go out riding with them. I think they really enjoyed it, and I did as well. We went out into the countryside on our bikes and then had a nice meal and they were able to ask me some questions.
"I don't get the chance to go back to my old club as much as I'd like because I live in Oslo now when I'm not racing. I try to get up there at the end of the season for their end of year party, and I go out riding with some of their older riders whenever I am in the area, but I wish I could see more of them.
"It's a really big club, and one of the best organised in Norway. They have a big mountain bike race every year and do a lot for their members."
Salvatore Puccio – U.C. Petrignano
Recently seen in the maglia rosa at the Giro d'Italia, Puccio said: "It was very nice to go back to the club where I started and to ride alongside the children there was a very nice experience for me.
"The children were really happy and excited. It was great that I could go back there and try to remember a bit what it was like for me as a young boy starting out on the bike. It seems like such a long time ago now.
"I think all the children enjoyed the day and that is the main thing. I was happy to be able to answer their questions."
Ian Stannard – Team Milton Keynes
British national champion Stannard enjoyed his experience, saying: "It was good fun and it was great to see all the young kids aspiring to get to where I am now.
"They had a lot of good questions and everyone was excited to be there. That was great to see. A few years I ago I was one of those kids. I've moved up the ranks and you almost forget where you are. It only feels like yesterday to me. It kind of hit home how old I'm getting and how quickly everything is moving!
"It was nice to go back, see them all and give them a little hand. It would be nice to go back and see them again sometimes."