On the road at the Giro 5
Jaguar's embedded performance engineer Martin Ayres shares his fifth Giro d'Italia blog.
Last Updated: 17/05/13 1:29pm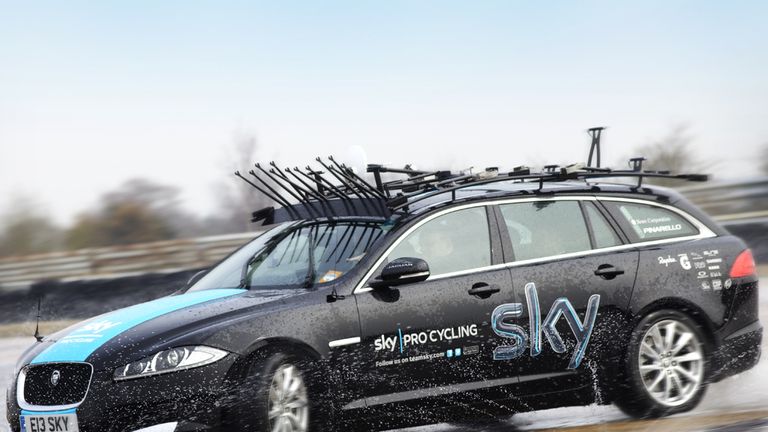 Martin Ayres has worked at Jaguar for over 12 years and is back as Team Sky's performance engineer at the Giro d'Italia.
Having not ridden a bike for over 20 years, Martin is a recent convert to the sport after his experiences with the team in 2012 and he will be blogging about his experiences throughout the race.
His fifth installment can be found here:
The Italian weather gods are playing funny tricks again. It's the shortest, flattest stage of the race so far and would have been an opportunity for GC teams to stay in the peloton and let the sprint teams take on the race. Instead, it's going be a good few hours of complete misery. I'm not joking on this one – the sky is blacker than our team kit. It seems to be sucking away the little light that there is.
I know that most people would envy being a pro sportsman/woman. I can't ever watch games of football or rugby without wistfully wondering what it must be like to be professional. On days like today however, I'm pretty happy not to be a pro cyclist! Nearly half of the peloton has gone down with a bug and never mind racing in these conditions, coupled with a nasty cold must be really grim. It's very difficult to get stronger again too, as your body has such little recovery time.
The support team (myself included) has basically spent this morning running in between vehicles and the team hotel trying to avoid a soaking, whilst the riders have sat in the bus, cursing the rain. One nice surprise is that we've got my old room mate Scott Mitchell (the team's embedded photographer) with us today. He will be shooting a 'behind the scenes' album of the work that goes into keeping the team moving during a Grand Tour. Scott was really the first person to take me under his wing on the Tour last year and share his encyclopedia of cycling knowledge with me, so it's great to see him again. Be sure to take a look at his beautiful photos on the teamsky.com website!
We've been travelling through the stunning region of Italy called the Veneto, which reaches up from Venice and into the Dolomite ranges of the North East. Added to that, we stayed in one of the most beautiful hotels that I think the team has ever been in last night, looking over rolling slopes of picturesque Italian vineyards. The hotels can be a real lottery sometimes so it was great to arrive at such a beauty spot after a long day. With the weather and scenery like it was yesterday though, it's no wonder that quite a few of the professionals live in and around the area.
Meanwhile the cycling fanatics are starting to really appear now. Northern Italy is the heartland of Italian cycling (something to do with all the mountains!) and the towns that we're running through are getting pinker and pinker. I'm told that there is a lot of local rivalry between towns to see who can produce the best display, and it gets pretty fierce. We've been rating them as we drive through. Got to run now – I'll try and post again over the weekend, or on the rest day on Monday.
If you haven't done so already, you can read Martin's fourth Giro blog HERE
Follow Martin on Twitter : @teamsky_jaguar
And see how much work Jaguar put in to get Team Sky's fleet of XF Sportbrakes ready for the 2013 campaign via this great video HERE.