Froome up for Dauphine challenge
Chris Froome is ready to mount a challenge for the Criterium du Dauphine as he continues to build towards the Tour de France.
By Richard Simpson
Last Updated: 02/06/13 5:08pm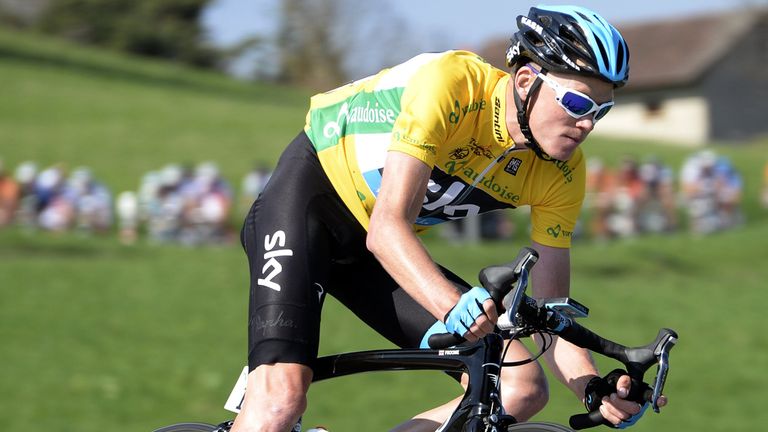 Chris Froome is ready to mount a challenge for the Criterium du Dauphine as he continues to build towards the Tour de France.
The 28-year-old is riding a wave of momentum following his strongest start to a season to date, the Kenyan-born Brit having racked up seven wins against top competition thus far in 2013.
Ahead of the start in Champery on Sunday Froome admits he is happy with the work he has done ahead of his biggest test of the season so far.
"I'm feeling really good," the Kenyan-born Brit confirmed. "I came off a good block of training up in Tenerife with the guys and I've had about a week at home now. It's been nice to sleep in my own bed for a little while.
"Having said that, I'm starting to feel ready, I feel like the form is definitely on its way up and everything is heading in the right direction for the Dauphine."
Fond memories
The eight-day French stage race is an event in which Team Sky have excelled in recent years, capturing back-to-back wins in 2011 and 2012 through Sir Bradley Wiggins, each with a display of dominant teamwork.
So often an indicator of Tour form, Froome adds: "It could be seen as a mini Tour de France as all the contenders and most of the big names will be there. Everyone should also be in pretty good shape this close out from the Tour. And to go with that we've also got a really tough route with some really challenging mountain-top finishes, as well as a time trial. It's eight days of racing but it's definitely going to be a good test for the Tour that's for sure."
A successful year has allowed Froome to gain valuable experience riding in a leadership role, visibly growing in confidence along the way.
"I've been in that position a few times this year in addition to defending the leader's jersey. I think it's gone really well and the feeling with my team-mates and the guys riding around me has been fantastic.
"We've got a really solid team – riders and staff – and everyone seems to be on track with their preparation. We're where we need to be at the moment."
Hard yards
After victory at the Tour de Romandie in late April Froome headed to Tenerife to tackle an intense training camp up at altitude.
"It's hard work up there," laughed Froome. "It's definitely a bit of a boot camp with the altitude and the hard training. But you can definitely feel when you come down from there that you've moved your condition on a bit. I guess at the end of the day it's all those kind of things that we do building up to the Tour that get us into the condition we need to be in. It's definitely a worthwhile exercise doing it."
With his form coming good Froome also returns to a race where things really began to click last season.
Remembering back he explains: "I think last year around the Dauphine was when things started going right for me. I'd had a bit of a turbulent start to the season and by about the Dauphine things started coming around. I ended up with fourth there which was definitely a sign of good things to come looking towards the Tour.
"I definitely hope to be up in contention this year, but having said that we've got a really solid set of bike riders coming to the Dauphine. I wouldn't be surprised if someone like Richie [Porte] could be up there again the GC. It's actually quite a good position for us to be able to have those different cards to play."