Porte focussed ahead of Tour
With the Tour de France just days away Richie Porte is ready to make an impact for Team Sky for a second year in succession.
By Richard Simpson
Last Updated: 28/06/13 4:00pm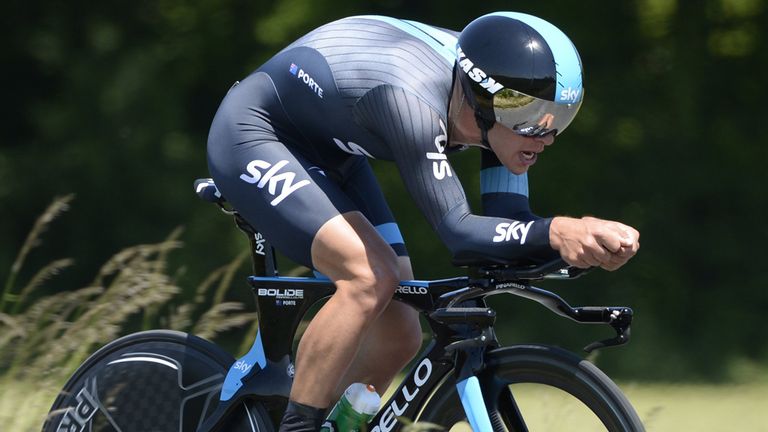 With the Tour de France just days away Richie Porte is ready to make an impact for Team Sky for a second year in succession.
The Tasmanian has shown blistering form this season, with Porte rocking up at the start of the race in Corsica with five victories to his name amid the best campaign of his career to date.
Despite claiming a landmark overall victory at Paris-Nice in March, the 28-year-old is committed to helping friend and team-mate Chris Froome capture the maillot jaune during three weeks of hard racing.
Speaking to TeamSky.com ahead of the start of the race Porte confirmed: "I'm feeling ready to go. This has been the aim the whole season - to go to the Tour and to be there to support Chris as much as I can in the mountains. Also if I can perform well enough, after I've done my job, I'd like to hopefully hold onto a place in the GC as well."
On the undeniable draw of the Tour, Porte admits: "It's the biggest race of them all. Everybody is at the top of their game. Everyone on the start line is in top shape. It demands a lot of respect. Especially this year, the first week is likely to be more stressful."
Staying upright
The opening stages are set to be as testing as ever as the island of Corsica plays host to the Grand Depart and three tough days which could catch out the unwary.
Porte is in no mood to drop time, adding: "Everyone knows about the first week and the crashes. From our point of view starting in Corsica we know it's going to be tricky and it's just about staying out of trouble."
Porte was on hand in 2012 to play a huge part in a magical three weeks. The challenge now is to do it all again.
"Last year was just an absolute dream," he admitted. "It would be hard to top it. Winning six stages and coming first on GC. It was an incredible three weeks and it just went like clockwork. This year is a bit different without the prologue to start with. The first few stages mean that everyone has the chance to move up and wear that jersey. It's going to be very hectic!"
Heading into battle is a nine-man unit made up predominantly of riders who featured in a successful sortie at the Criterium du Dauphine – Porte taking second in a Team Sky 1-2 behind Froome.
On the make-up of a team that appears to be firing on all cylinders Porte said: "It's a young team and a very British team this year. Guys like Pete Kennaugh and Geraint Thomas were winning gold medals last year on the track. This time around they are going into battle for Chris Froome to try and help him win the Tour. Even though it's a young team it's an incredibly well-drilled team. The Dauphine was absolutely brilliant. It's not that we're lacking in experience either having the likes of [Vasil] Kiryienka on board.
"It's certainly not going to be easy, but the camaraderie and 'mateship' on this team make it that much more enjoyable."
Climbing contender
A 1-2 at the Tour last year with Sir Bradley Wiggins and Froome, in addition to June's Dauphine heroics have inevitably led to people questioning whether Team Sky can do the business once again.
Looking at the challenges of his role across the three weeks, Porte sees his position as similar to that Froome occupied 12 months earlier.
"If you look at it, last year Chris had the same role as I have this year. I talk with Chris every day. We train a lot together, so I know what it entails. He's done his apprenticeship but he was in such brilliant form last year that he was also able to hold on and finish second on GC.
"It would be an absolute dream to do something similar. It's not an easy thing to do. With the form I have at the moment – and you need a bit of luck I guess – I've done everything I can to be up there at the pointy end on GC come Paris."
With the stakes and the competition ramped up during the Tour, Porte admits it is still a thrill to race in the biggest spectacle of them all – and an event he remembers watching growing up.
"It was a race that gets most of us interested in the sport. Growing up in Australia it was the only race that was televised. Back then it was half an hour segments and three live stages and now it's gone absolutely gangbusters with Cadel [Evans] winning.
"I grew up watching the Aussie heroes of the day battling. It's a funny feeling now it's come full circle and it's me riding on the Champs-Elysees. Every moment of the Tour you do sort of pinch yourself and think 'I'm riding the Tour.'"