Edvald excited for Tour start
Edvald Boasson Hagen returns to the Tour de France ready to continue his good relationship with the race.
Last Updated: 30/06/13 12:27pm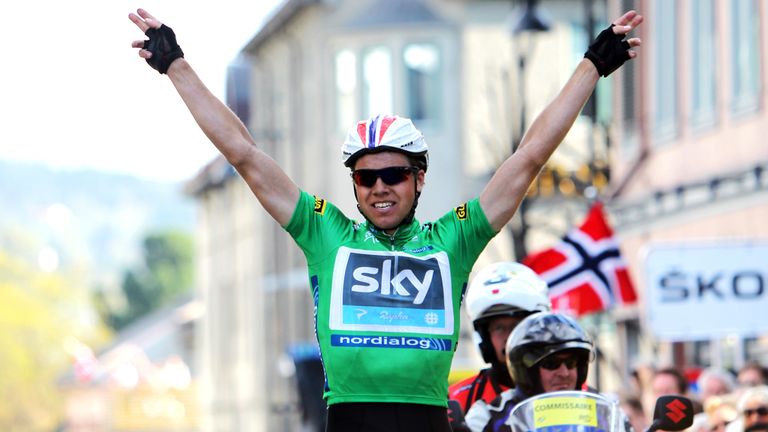 Edvald Boasson Hagen returns to the Tour de France ready to continue his good relationship with the race.
The Norwegian is no stranger to La Grande Boucle and is the team's only ever-present in four appearances at the French spectacle.
The race has provided a platform for the 26-year-old to demonstrate his all-round talents, claiming two momentous stage victories in 2011, not to mention being part of the race-winning nine last time out.
With the start just around the corner, Boasson Hagen told TeamSky.com: "I feel ready and I'm really looking forward to getting started. It's been a good feeling meeting back up with the team in Corsica and we're all ready for the first stage."
Fresh from an impressive sixth victory at the Norwegian national time trial championships, Boasson Hagen also saw success with a win on stage three at the recent Criterium du Dauphine.
On a special race which one again produced a 1-2 result for the team he commented: "It was really nice to ride in the Dauphine in the team and for us to do a performance like that. We were able to make an impact on the race and hopefully everyone is in the same condition when we start the Tour de France."
Role reversal
The 2012 Tour saw Sir Bradley Wiggins take the headlines with victory, but produced a series of huge performances from his team-mates along the way.
Boasson Hagen surprised many with a superb climbing display in the mountains, taking to the front to lead the line, dropping established climbing talents in the process.
With the pressure now on to replicate that, the Norwegian reflected on his role: "It's going to be almost the same [as last year] I think. I'll be there helping on the flat stages and the medium-to-high mountains. That's my job in this team of nine. If I get the opportunity I will try to do something but the main objective is to help Chris and try to win the GC with him.
"Last year was really good. I'm hoping to be at the same level as 12 months ago – we'll see. I was riding at the training camp in Chatel and I was climbing well. Hopefully that bodes well for the Tour de France and that I can be a big help in the mountains."
Spectacle
With Norwegian fans set to line the roads in their thousands, Boasson Hagen admits there is no escaping the race as a draw, both in his homeland and around the world.
"It's special because everyone knows about it. Everyone watches it. It has a worldwide presence and every cyclist wishes they could complete at the Tour de France.
"I have some great memories from this race. This year will be my fourth time here. It's been good to me in the past and hopefully we can continue the success in the next few weeks."